Harvesting at Sea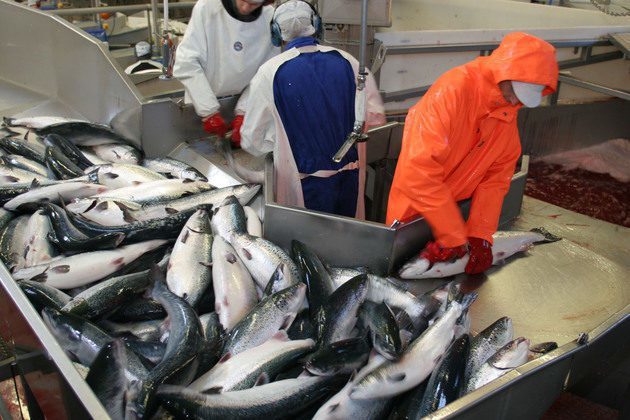 Traditionally, farmed salmon are transported to land to be slaughtered at a harvesting plant. The aim of this project is to increase knowledge about slaughtering fish on board boats and how it affects fish welfare, quality, process technology, business administration and societal effects.
Background
Traditionally, salmon have been produced in net-pens, transported to a harvesting plant by well-boat and sent to market after being gutted and packed in ice. In recent years, there has been rapid development in the aquaculture industry within this field. Large net-pens, land-based facilities, the salmon lice situation and fish health put pressure on the current system in terms of transport capacity, harvesting plants, time, weather and wind.
As a result, the industry has begun to bleed and slaughter the fish in close proximity to the net-pens. The fishing industry is also involved, and combination boats are being built that will be able to catch and slaughter both whitefish and salmonids.
Harvesting at sea changes a number of established practices with regard to animal welfare, economy, process technology, food safety and quality, and there are many unanswered questions.
Nofima has investigated aspects of this topic in several previous projects and is now using its own funds to gather interdisciplinary expertise.
Focus topics
We have a wide range of questions we would like to answer. Here are some of them:
Fish welfare
We will investigate how harvesting at sea affects fish welfare and quality compared to live transport, and the impact that reduced starvation time has. We will also find out the optimal crowding and pumping methods for handling the fish.
Kvalitet og mikrobiologi
Vi vil blant annet finne ut om det er forskjell mellom bløgging og sløying på sjøen og på land og hvilket kjøleregime som er optimalt for ulike forhold. Hvilken påvirkning har været? Og kan slakting på sjøen være gunstig for levendelagret villfisk?
Quality and microbiology
Among other things, we will find out whether there is a difference between bleeding and gutting at sea and on land, and the most optimal refrigeration regimes for different conditions. What impact does the weather have? Can harvesting at sea be beneficial for live-stored wild fish?
Business administration
We will investigate the costs and profitability of harvesting at sea compared to other harvesting solutions. What will the economic effects of potential benefits be, how can the profitability of different farming systems be assessed, and what are the financial differences of using a slaughter-boat compared to a bleed-boat and land-based harvesting plants?
Societal effects
We will investigate how slaughter boats affect employment, value creation and ripple effects, and investigate the effects on the supply industry. We will also investigate transport conditions and environmental effects of moving salmon transport from road to sea.
Regulatory frameworks
We are investigating the regulations for production fish with regard to processing and regional employment.
Market
How important is it for consumers that the aquaculture industry makes products that meet expectations regarding quality, animal welfare, price and sustainability? What influences consumers' willingness to pay for food production that is more ethical? 
Strategic priority areas
Nofima invests its own resources in order to increase competence in useful, relevant and innovative areas and strengthen our position among the leading applied research institutes.
Active projects
Some previous projects