Hybrid slaughter boat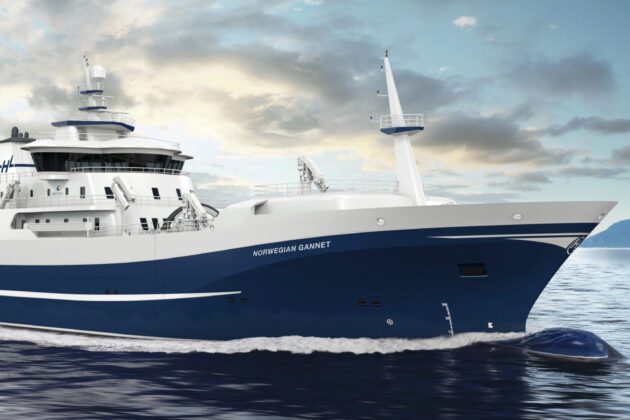 The world's largest floating slaughterhouse can collect salmon directly from Norwegian net-pens and slaughter the fish while transporting them to land in Denmark. Among other things, scientists will investigate effects on animal welfare, quality and food safety.
Funded by
RFF Vestlandet - regionalt forskningsfond
Cooperation
Sekkingstad, Optimar, Downstream
The general idea is to move the slaughtering of fish from land to sea. This gives the industry the opportunity to move harvesting capacity across zones and across national borders. This enables one to harvest the largest fish farming net-pens in a single day and transfer the biomass to any facility, nationally and internationally.
The advantages will be reduced transport costs, time, waste due to mortality rates, risk of spreading fish diseases, as well as improved animal welfare.
As a result, Hav Line Gruppen has built the world's largest floating slaughterhouse, the slaughter boat called Norwegian Gannet. Furthermore, the world's largest packing and processing plant has been developed in Hirtshals, Denmark so as to receive this biomass. This enables Gannet, a hybrid vessel that utilises shore power, to deliver 1000 tons of fish faster and in a more environmentally friendly manner than what would be the equivalent of 50 articulated lorries.
In order to achieve the goal, the project is dependent on research that can identify potentials and solutions in the operational phase of the project. This includes investigating and verifying the effects on animal welfare, quality and food safety. The vessel is able to slaughter the fish right next to the net-pens and then process and supercool them during transport to processing facilities.
Besides improving the sustainability principle by producing less waste, the project will focus on the extent to which the quality of fish changes as a result of low stress loads and temperature. Over time, this may result in a fresher profile compared to traditionally slaughtered fish, which may also apply to residual biomass. This allows for better utilisation of the supercooled product for further transport in environmentally friendly packaging without the use of ice.
Food safety through analyses following the presence of Listeria monocytogenes in the production area and around fish farms will also be in focus. Overall, the project will promote increased automation, better quality, shelf life and utilisation of residual biomass, which will be a major boost for Norwegian equipment suppliers and the aquaculture industry.