Fresk
Industrial production of fresh fish products – freezing, storage and defrosting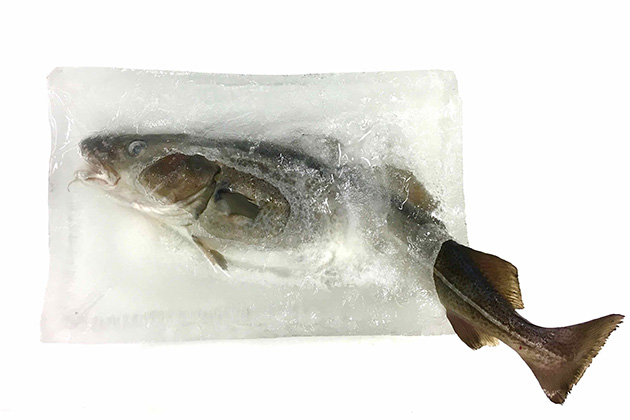 This initiative will help Nofima acquire new knowledge on how to optimally freeze, store and defrost fish.
Main objectives
Contribute new knowledge by studying how freezing, storage and defrosting affects the quality and shelf life of seafood. The knowledge will be useful in optimising these processes with regard to quality, yield and costs.
Background
It is believed that the food manufacturer Birds Eye started the modern production of frozen fish in 1925, so it's definitely not a new invention. However, the 'frozen fish' product category has traditionally been regarded as something other than 'fresh fish'. Freezer counters contain many products that have a very long shelf life, and frozen fish is associated with low quality in many countries. Meanwhile, fresh fish has a limited shelf life. Most types of fresh fish do not possess a shelf life that is compatible with the wishes and needs of the retail trade. Fresh fish products have often passed their prime eating quality by the time they are available to buy in the shops.
Therefore, Nofima wants to investigate the opportunities that lie in optimal freezing, storage and defrosting. The aim is to create a 'new' category of frozen fish products that significantly stands out from current frozen products, preferably surpassing the level of quality that fresh fish has to offer today.
However, there are many issues here that are unresolved. What quality characteristics are required in order to stand out from current frozen products? How much is the customer willing to pay for these types of 'premium' products? What requirements must be met regarding the quality of raw materials, handling, freezing, storage and defrosting?
These correlations will be revealed through systematic work on the quality of raw materials, freezing speed, storage time/temperature and defrosting conditions. Furthermore, the required conditions will be applied to existing equipment and new technology. This means that fishing, industry and distribution chains gain a better foundation on which to improve and position their products in the market.
Deliveries and results
Conducted trials to study effects on fluid loss after freezing and defrosting vacuum-packed cod loins under various conditions, and cold storage at – 20 °C for a period of one year
Conducted several hyperspectral measurement trials on vacuum-packed cod loins. Based on these measurements, also conducted on frozen samples, we have been able to predict fluid loss .
Acquired lab-scale LIN freezers for freezing at temperatures down to – 100 °C. These freezers can also be used for shell freezing/supercooling.
Built thawing containers with temperature and flow rate control for defrosting blocks.
Conducted trials involving the rapid and slow freezing and defrosting of vacuum-packed mackerel fillets stored at two different temperatures, where we investigated the effect on fluid loss.
Conducted glazing trials on mackerel fillets using both water and water with added thickening agent. We recorded a change in weight after glazing and during cold storage.
Conducted trials on pre-rigor filleted cod, where we investigated the effect of cold storage time and temperature on contraction and fluid loss.
Scientific publications
Strategic priority areas
Nofima invests its own resources in order to increase competence in useful, relevant and innovative areas and strengthen our position among the leading applied research institutes.
Active projects
Some previous projects