NewTechAqua
New solutions for sustainable aquaculture research and innovation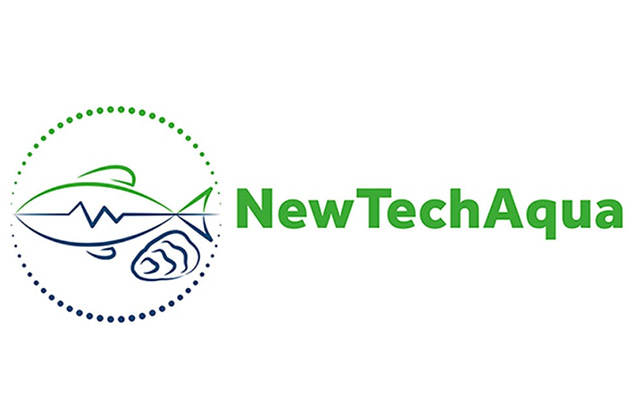 In this project we test and develop new solutions for European aquaculture.
Funded by
EU - Horizon 2020
Cooperation
The project is lead by University of Bologna (Italy), and has several European partners from science and aquaculture industry
Objectives
NewTechAqua will:
Deliver solutions to improve fish and mollusc health and disease resistance, e.g. prediction models for specific diseases, kits for disease detection, new breeding programmes and new diets.
Improve performance and quality of farmed fish and microalgae by developing innovative breeding programmes.
Make the aquaculture sector more sustainable and circular through different rearing systems (RAS, biofloc technology, aquaponics) new diets using fish by-products, fish processing wastewaters and microalgae and low-fishmeal organic diets.
Increase the efficiency of aquaculture production systems via real-time management systems, satellite systems, and recommendations.
Support diversification of fish species by studying the reproductive cycle of emerging fish species (greater amberjack, meagre and Senegal sole) to re-create the best conditions for raising these new species in aquaculture production systems.
Develop new eco-friendly fish and mollusc products with high nutritional value.
Raise awareness and train professionals from the aquaculture sector by creating training programmes and conducting studies on consumers' preferences.
With this new set of solutions, NewTechAqua will demonstrate that investment in sustainable aquaculture research and innovation leads to the creation of new value chains, markets, growth and jobs in coastal, offshore and inland areas.
Nofima's role
In this project, Nofima works with breeding programs for microalgae in collaboration with the University of Las Palmas de Gran Canaria, genetics for feed efficiency in salmon in collaboration with MOWI Genetics AS and genetics for production and product characteristics in European seabass in collaboration with ABSA-Culmarex.
NewTechAqua website
The project has its own website where you can follow the progress of the research.