Patogen pilot plant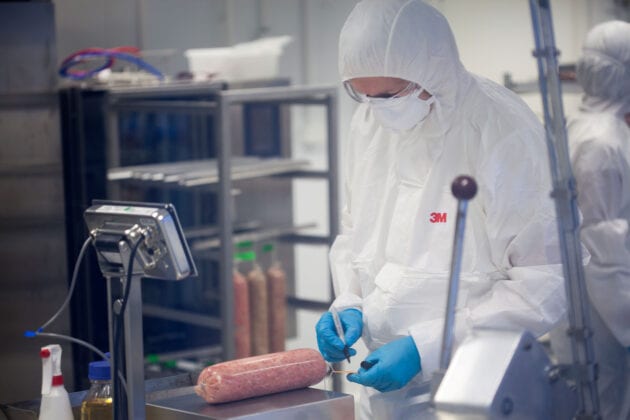 This pilot plant is a national hub and Europe's first high-security production facility. Here, researchers study life-threatening bacteria like Listeria monocytogenes and E.coli in a realistic production environment to prevent serious food poisoning.
To ensure food safety, we need up-to-date knowledge about harmful bacteria. The safety requirements for producing life-threatening food items for research are very strict, which makes the pathogen pilot plant unique.
The facilities are specially constructed and completely sealed off in terms of air, wastewater and waste disposal in order to prevent contamination of the surrounding environment.
Here it is possible to research pathogenic bacteria in food during processing, packaging and storage, and to study the effects of different washing and disinfection methods. Researchers add bacteria, investigate how they behave, and develop methods for ensuring food safety.
New varieties of bacteria are constantly evolving. An important task is to increase knowledge about the bacteria's ability to adapt to modified recipes and processes in food production.
Equipment at the pilot plant
Meat chopper / passing machine
Meat grinder
Sausage stuffer
Slicer
Fermentation chambers
Combi steamer
Cooking equipment
Conveyors
Vacuum and modified atmosphere packaging machines
UV-C cabinet
Pulsed UV equipment, including high intensity
Incubator chamber
Climate room
Food-borne disease outbreaks
A more globalised world means that food, both in the form of raw materials and finished products, is crossing borders to a greater degree than ever before. Increased variety in the food that is available to us provides greater diversity and food enjoyment, but it also increases the challenges in ensuring food safety.
This means that decision makers, researchers and food producers must all continue to cooperate and in order to ensure food safety.
The number of food-borne outbreaks and illnesses is increasing, including in Norway. The pilot plant helps fulfil the need for more knowledge about this issue.
We need better and safer methods to eliminate bacteria such as harmful varieties of Listeria bacteria or E. coli in food production.
Questions and enquiries
Visiting address
Nofima
Osloveien 1
NO-1433 Ås
Food pilot plant
Together with NBMU, we offer first-class facilities for research, education and product development of food and residual raw materials.
The food pilot consists of a number of processing halls where researchers, students and companies can test, among other things, new technology and packaging solutions as well as new combinations of raw materials.
Read more about Food pilot plant.
The following halls are located at Nofima in Ås