Research facilities at Måltidets hus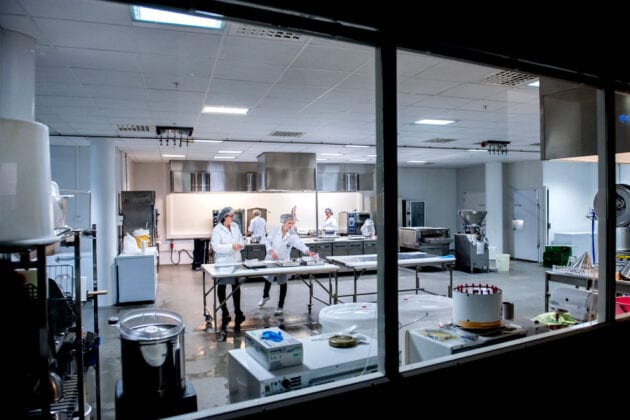 The research rooms and laboratories at Måltidets Hus make up a total area of about 1,000 m2.
The area is divided up into different zones. The design allows for a great deal of flexibility as well as a high standard of hygiene.
In connection to the research areas there is a special clean room where research demanding a particularly high standard of hygiene can be carried out.
The facility is otherwise divided into the following areas:
Pilot plant fish processing
The fish hall contains equipment for the receipt and processing of fish. There are also two large refrigerated rooms, one for the storage of untreated fish and one for part processed fish (salting, marinating etc.). There is also equipment for smoking products, as well as good opportunities for refrigerated storage of raw materials.
Trials hall
There is a large production kitchen in the trials hall. There are also areas designed for the installation of various kinds of process equipment. This may be equipment already at Måltidets Hus or equipment brought in from partners.
We also have equipment for high pressure treatment.
Packaging hall
The packing hall contains equipment for the packaging of foods – everything from equipment for sealing metal packaging to various kinds of equipment for packing in modified atmospheres.
Autoclave room / heat treatment. Two autoclaves have been set up in the autoclave room, based on two different technologies.
Questions and enquiries
Visiting address
Måltidets hus
Richard Johnsensgate 4
NO-4021 Stavanger