New report shows the Norwegian fishing industry is key for employment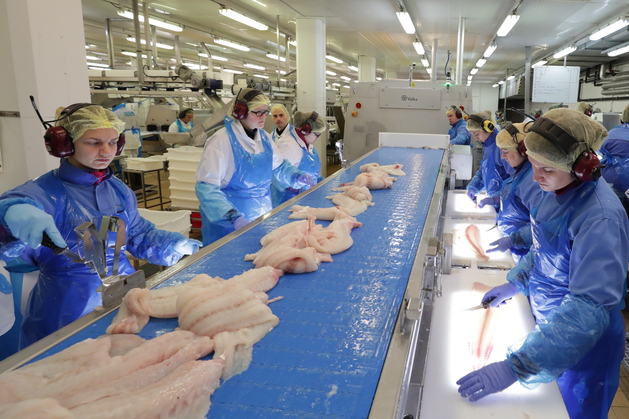 A new report from Nofima shows that the fishing industry is key for employment and value creation along the Norwegian coast. In 20 of Norway's municipalities, the fishing industry accounts for more than 10 per cent of employees in the private sector.
Some key findings
Access to raw materials for the industry: In 2021, the Norwegian fishing fleet harvested 2.59 million tonnes of fish and shellfish, a marginal decrease of 1 per cent compared to the previous year. However, the total first-hand value increased by NOK 1.1 billion, reaching a total of NOK 23.9 billion.
Value creation: The total direct value added in the fishing industry in 2021 was NOK 6.8 billion. The pelagic consumer industry has the largest value creation, amounting to more than NOK 1.8 billion.
Overall effects: The total employment rates for the seafood and fishing industry and related knock on-effects amounted to 13,900 employees in 2021, with Nordland and Møre og Romsdal counties as key regions.
The fishing industry is most vital for employment in Finnmark county, where it accounts for as much as 6.9 per cent of employment in the private sector. In nine of the county's 19 municipalities, it accounts for more than 10 per cent. At the very top are Gamvik, Hasvik and Båtsfjord with 44, 40 and 39 per cent respectively.
Employment in this sector ranges from direct employment in the fishing industry to indirect knock-on effects in other parts of society. The new report only addresses the land-based fisheries industry.
"The report shows that the fishing industry plays an incredibly important role for many municipalities, especially in Northern Norway. It makes a significant contribution to local communities in terms of employment, value creation and tax revenues," says Roy Robertsen, senior researcher and project manager for the work on the report, which was commissioned by Seafood Norway.
In addition to Finnmark, Robertsen points to Værøy, Røst and Træna in Nordland county as the most unique examples, where the fishing industry accounts for 61, 55 and 47 per cent of private-sector employment respectively.
Significant knock-on effects
The fishing industry creates significant knock-on effects along the coast. Nordland county is at the top of the list with 2325 employees in the fishing industry, followed by Møre og Romsdal with 2082, Finnmark with 1514 and Troms with 985.
If we look at the wild-fish industry as a whole, the companies employed around 8200 employees who worked about 5900 full-time equivalents (man-years) in 2021. This corresponds to about 72 per cent man-years per employee.
Many of these companies are nevertheless dependent on seasonal employment. For the most important whitefish, cod, the season is very brief in many places. This seasonal variation has the least impact in Finnmark county, and when combined with the king crab industry, creates more predictable and stable activity level. Although the fishing and harvesting activity is at its busiest in spring, the production of both clipfish and pelagic fish for consumption helps generate more employment in the peak autumn season.
The report also estimates that the fishing industry has significant tax contribution effects, with total direct and indirect tax contributions of nearly NOK 1.8 billion in 2021. Based on the accounts from the fishing industry, total corporate tax in 2021 amounted to NOK 430 million.
A number of companies in the fishing industry engage in a combination of several activities. Most companies receive whitefish catches for processing, which can be combined with clipfish and pelagic fish, stockfish or processing of salmon. In Finnmark, whitefish and king crab represents the most common combination. As many as 25 companies receive both whitefish and king crab catches.
The report provides a comprehensive overview of the importance of the Norwegian wild fish industry for employment, value creation and social development. It underlines the importance of supporting and developing this important industry to sustain settlement in the coastal regions and ensure economic sustainability.
Weak profit margins
Even though there is a lot of activity in the fishing industry, there are also a number of challenges to overcome. There has been a slight reduction in catches compared to the previous year, but the first-hand value increased by 4.5 per cent to NOK 23.9 billion.
"Most companies in the fishing industry struggle with their profit margin", says scientist Audun Iversen. The profit ratio over the past decade is 0.9%, compared with over 11% for the Norwegian industrial sector in general. But there are some lights in the dark: in recent years, the pelagic consumer sector has performed significantly better than previously.
As in all industrial sectors, there is a great variation in results at the company level, as well as significant differences for the individual industries. Clipfish and stockfish producers have long been among the most profitable industries, but both had a difficult year in 2020.
The number of onshore processing companies has been stable in recent years, with a total of 313 companies in 2021. Employment rates are rising, and the report indicates that the companies are growing, with 63 of the more than 300 companies covered had more than 40 employees.
Read the report (Norwegian language)
Key terms:
Value creation:
Value creation (gross production) is the added value that a company creates after deducting purchases of goods and services, and consists of employee wages, profits to owners and taxes to the authorities. Value creation is usually measured as earnings before interest, taxes, depreciation and amortisation (EBITDA) plus labour costs, and can therefore be seen as the sum of the return on capital and the return on labour.
Net value creation:
This is value creation less interest, taxes, depreciation and amortisation.
Employment:
"Employed persons" in this context are the sum of employees and self-employed persons.
Man-years:
A man-year or full-time equivalent (FTE) is the work carried out by an employee in a full-time position throughout an entire year.
Ripple effects:
Ripple effects in this context represent a measure of an industry's overall economic impact. In addition to employees and value creation in the industry, knock-on effects also include employment and value creation at the industry's suppliers. In the present report, we refer to these as 'direct' and 'indirect' effects, and the sum as 'employment affects' or 'value creation affects'.
Contact persons