Hrogn uses research to document food safety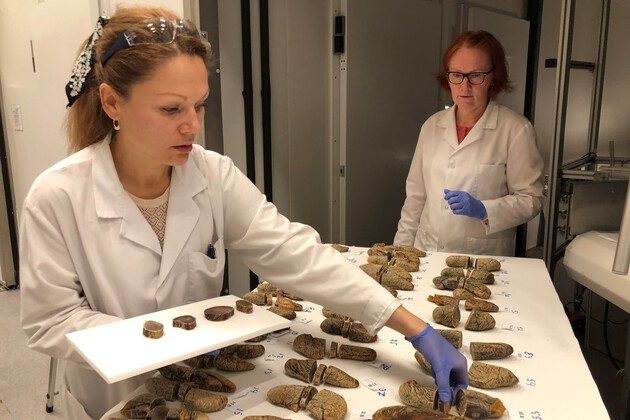 Drying fish for human consumption is an ancient tradition and a cherished part of Norwegian culture. However, when fish roe is hung on the drying racks, the regulations immediately become more complicated.
Joakim Wikström at Hrogn AS in Tromsø chose to resort to research as a basis for documenting the safe production of naturally dried fish roe — which is currently a sought-after product in the exclusive part of the restaurant market in Europe, the East and the United States. And new countries are constantly joining the customer list.
"Our type of production does not fall under any of the EU's food safety directives. We needed to quality assure a process that was problematic for the Norwegian Food Safety Authority", explains the General Manager of the special production company in Kvaløyvågen in Tromsø Municipality.
Both circular economy and luxury
Production is based on the same fish roe that we usually eat as part of the traditional Norwegian dish called skreimølja (Northeast Arctic cod, cod liver and cod roe). Bottarga is the name given to salted and dried products of fish roe. The product is known from Mediterranean countries and is thousands of years old. Traditionally, roe from the grey mullet and tuna were used. Hrogn AS is the first and only company in the world to commercially produce naturally dried roe from Northeast Arctic cod by hanging it outside in the traditional manner.
"We are also the only Norwegian manufacturer that is approved by the Norwegian Food Safety Authority regarding this type of production; natural outdoor drying", says Wikström.
The Swede behind Hrogn AS, with an all-Norwegian product and associates from Finland and Italy, has managed to gain attention from the gourmet food sector in Europe and the rest of the world.
"We are a niche business that contributes to the circular economy and creates value from residual raw material that is exported as a high-end product — something you can call a luxury segment", says Joakim Wikström.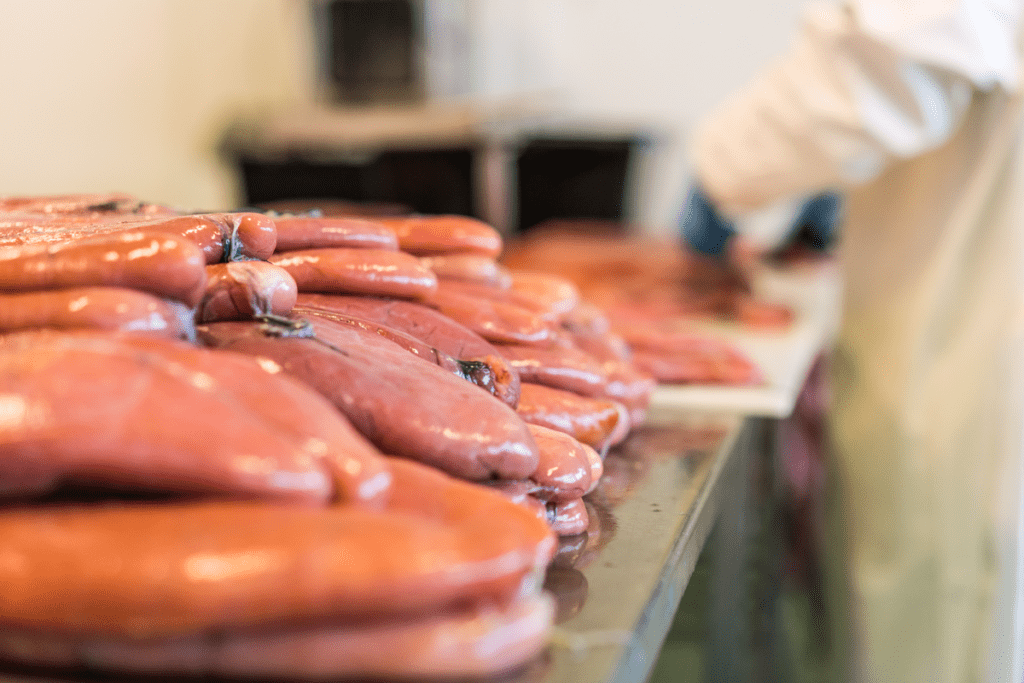 Bottarga Boreale
Under the brand name Bottarga Boreale, the dried roe is sought-after in the luxury segment among restaurants in 14 countries — mainly in Europe. Around 40 Michelin restaurants are on the customer list.
Therefore, having to halt production because of strict Norwegian food safety regulations wasn't the best of situations to find oneself in. It turned out that Hrogn had initially been granted permission to produce the dried fish roe on the wrong basis. This was discovered when a company in Central Norway had their application rejected regarding permission for a similar process."We got in touch with Nofima because we wanted to remove every conceivable obstacle that could jeopardise our continued production in Norway. We wanted to measure and document the manner in which the outdoor drying process takes place, and as a result document food safety", says Joakim Wikstrøm.
He believes that the temperature and climate in the far north of Norway are crucial factors when it comes to the safe production of both dried fish and dried roe.
"Temperatures that are too warm during spring further south can create problems regarding fermentation and insects" he explains.
Started from scratch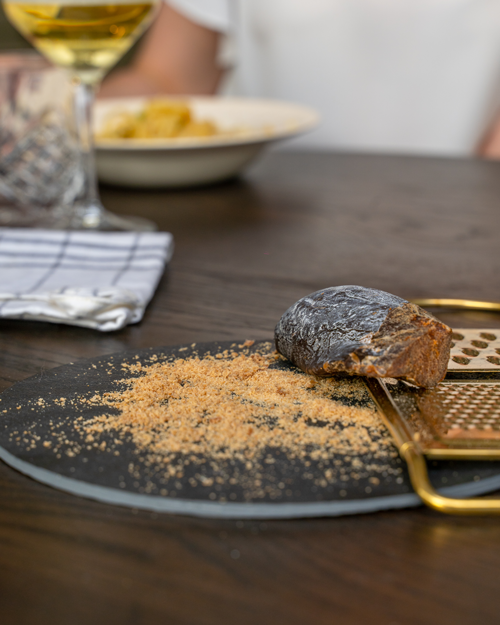 Grete Lorentzen was one of the Nofima scientists who was given the assignment, which is funded by the Regional Research Fund Arctic with NOK 300,000 in addition to NOK 300,000 from Hrogn itself. She characterises it as an interesting and exciting research project.
"We started from scratch in order to document what happens when the roe sacs are hung on the racks to dry. What type of process takes place inside the roe when it is hung on the drying racks? How is the product affected when water disappears and salt is absorbed? To what extent is the drying process affected by precipitation? By wind and humidity? And will a tarpaulin over the drying racks affect the drying rate?"
It was unknown territory and a type of mapping that had never been done before.
"Seeing as there is no information about this type of production, we chose to focus on the drying, i.e., how the weather affected the drying process.
This process has now been carefully documented", says Grete Lorentzen.
That is something that Joakim Wikstrøm is very happy about.
"In other European countries, cheese is matured on wooden planks in caves. Octopus is dried hanging from nails on walls. Both have been documented through generations as not posing any challenges to food safety. The same applies to Norwegian stockfish. Therefore, the same must also apply to fish roe when it is dried in the same way", says Joakim Wikstrøm, adding:
"In both cases, Mother Nature takes care of the production method.
Special paragraph
Production of the ever-popular Norwegian stockfish falls under a special paragraph in Section 21b of the Regulations concerning specific hygiene rules for food of animal origin (Animal Hygiene Regulations), which regulates the traditional outdoor drying of fish. It looks like it will be the same paragraph that applies to the drying of fish roe.
"Getting permission for the production of all other dried food requires a ceiling, walls and a floor that can be cleaned", explains Joakim Wikstrøm.
Ever since the company started, he has been proactive towards the Norwegian Food Safety Authority, and he now believes that all formal permits will be granted. After collaborating with Nofima, he has now received the desired documentation and the production permit has been secured.
"We have been permanently approved by the Norwegian Food Safety Authority since 2017. This approval has not been cancelled or suspended. The whole issue with the Norwegian Food Safety Authority boils down to the fact that they have to give grounds as to why they think we should get permission when it is not specified in the legislation. We have done our part in reinforcing that explanation with facts", says Joakim Wikström, adding:
To me, Nofima stands for legitimacy. Through the research project, we can document the production process. The application for permanent approval now lies with the Ministry of Health and Care Services, which will make a decision on whether the matter should be forwarded to the EU's legal monitoring authority called the ESA, or whether they make the decision themselves."
Caring about the food
Grete Lorentzen praises the collaboration with the gourmet food manufacturers:
"Joakim and the gang are entrepreneurs who started from scratch and developed a product that is currently in demand in the luxury segment around the world. One has to be extremely dedicated to meet the strict requirements of Michelin restaurants. Joakim weighs each individual roe sac by hand in order to check if it has been dried enough, and he has the tools to find out what the weight development should be for the product to be considered sufficiently dried. Caring for the food in this manner is probably what gets it into gourmet restaurants", says Grete Lorentzen.
Several different products have been developed from Northeast Arctic cod roe:
Bottarga Boreale — pieces of dried roe
The same roe ground into a powder and sold in a gift box
Skreiperle — a caviar substitute made from dried roe
Smoked roe — salt matured and smoked. The product is similar in texture to other bottarga, but it has a distinct Nordic, smoky character without any additives other than salt and smoke.
"We don't let any of our raw materials go to waste", says the food entrepreneur.
According to the manufacturer, Bottarga Boreale has an intense taste and is packed with umami.
"The concentrated taste will bring out the best in most dishes, either with fish or vegetables. We also have customers who use our bottarga in meat dishes to create a 'foundation' in the same way that one uses anchovies. For the Norwegian palate, it will probably work best when grated over an omelette or buttered potatoes together with fish. Personally, I like it in a simple pasta with butter, garlic and thyme", says Joakim Wikström.
But was the collaboration with Nofima worth the money?
"Yes, absolutely! Without the documentation, I don't think we would have been able to continue our production. The research is now complete and we are in the possession of exciting research material. The collaboration with Nofima has enabled us to feel confident in delivering high value products", says a satisfied Joakim Wikstrøm.
Contact person