Research assisted kelp snacks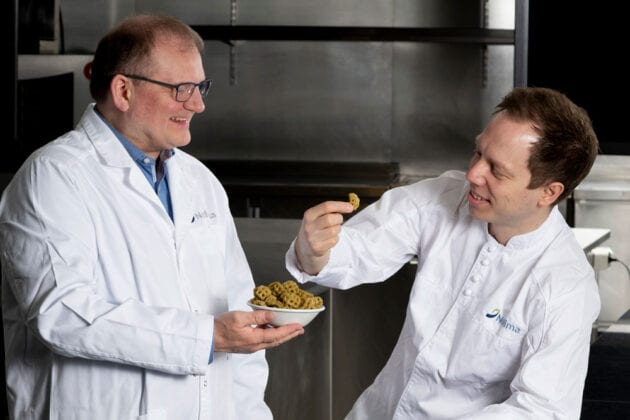 Dagbjørn Skipnes and Stian Gjerstad Iversen from Nofima can afford to grin from ear to ear. Together with the start-up Sjy Seaweed in Nordland, they have been conducting research to create snacks made from and with kelp.
In Asia, consumption of kelp is high. Few people know that more kelp is produced worldwide than farmed fish and that kelp forms an important part of people's diet in some Chinese and Japanese regions. In Norway, seaweed and kelp grow along the entire coast but we eat very little of it.
The start-up Sjy Seaweed on Indre Kvarøy off the coast of Helgeland is passionate about sustainability and aims to create food that is not reliant on fresh water, land usage and chemicals. Snacks made from and with kelp are the first product to be brought to market. Nofima has been their research partner. Together, they have come up with a product that contains 7.5 per cent kelp.
"We wanted to create a product that people would not only eat once a year, but all year round. In this way, we can create year-round jobs," says LeonoreOlsen, one of the founders.
Help with research for product development
For the development of the new kelp product, Nofima used its extrusion expertise in Bergen. In short, the technology is used to give the product a porous and brittle texture. Cheese puffs are an example of a product created through extrusion. After the researchers in Bergen had completed their task, the journey continued to Stavanger, where Senior Scientist Dagbjørn Skipnes and chef Stian Gjerstad Iversen took over.
Plenty of research was conducted into product composition and taste. Kelp can be used both as a flavouring and as a salt replacement. But what kind of kelp is most suitable? Winged kelp has a lower iodine content than sugar kelp and can therefore be used in slightly larger quantities but is just as effective as a salt substitute. Moreover, two types also provides a wider range of flavours. It therefore became a combination between butare and sugar kelp. In addition to kelp, the products also contain potato, corn and plant fats.
"One of the products, which is seasoned using salt only, provides a fresh and salty taste of the sea, while the product seasoned using penny bun mushrooms dampens the kelp flavour somewhat and provides a different sensation in the mouth and more of an umami flavour," says Stian Gjerstad Iversen.
Dagbjørn Skipnes is a kelp specialist and has played a key role in the development work.
"On the basis of my areas of research, I assist the food industry with everything from documentation of heat treatment to production facilities. This also includes the selection of methods and equipment for processing," explains Skipnes.
Broad commitment to kelp
Dagbjørn Skipnes leads a major research project called TastyKelp, a project funded by Nofima itself.
One of the areas that will be studied as part of the project is the components of seaweed and kelp that can be used as ingredients in the food industry. Macroalgae (seaweed and kelp) is one of the largest renewable resources in the world, but is not widely exploited in the Nordic region. Sustainability is important to Nofima and macroalgae is therefore a strategic area of focus.
A focus on seaweed and kelp is also important from a government standpoint:
"As the Minister of Fisheries and Seafood, I am pleased to hear about start-up companies investing in sustainable food production from the sea," says Odd Emil Ingebrigtsen, before adding:
"There are a number of resources in the sea that have yet to be exploited. There is a lot of interest in seaweed and kelp and we are seeing several exciting initiatives throughout the country. In this context, it is important to us that we help ensure safe seafood. We therefore require broad development of knowledge and research that can be transferred to the business community."
Great potential
In recent years, the focus has been on the cultivation, processing and extraction of sugar kelp in particular. In spite of the great potential for value creation, the Norwegian kelp industry still faces many challenges. The most important challenges are lack of market knowledge, food safety with regard to real iodine content and market-adapted products. The industry is also highly seasonal and therefore faces capacity issues where processing is concerned.
Some kelp species, such as sugar kelp, have a high content of iodine. Iodine is an important mineral that many people need more of, but in large quantities iodine can be harmful. If you eat too much iodine, the body will automatically try to prevent overdose by stopping the uptake. For some, the uptake does not recommence when the iodine level in the body decreases. Thus, excessive intake of kelp can prevent the uptake of iodine and cause iodine deficiency, with subsequent health problems. The health authorities recommend a daily intake of 150 micrograms of iodine for adults.
Both consumers and the food industry should adhere to the recommendations of the Norwegian Food Safety Authority and the health authorities, but it can be difficult for the individual consumer to keep track of whether the total intake of iodine from various foods is appropriate. At Nofima,we aim to further develop the methods for reducing iodine content so that consumers can confidently enjoy products with kelp, and the kelp industry won't have to worry about negative publicity," says Skipnes.
Contact persons