Food(R)evolution
Canteens as arena for innovation and driver of change for sustainable food habits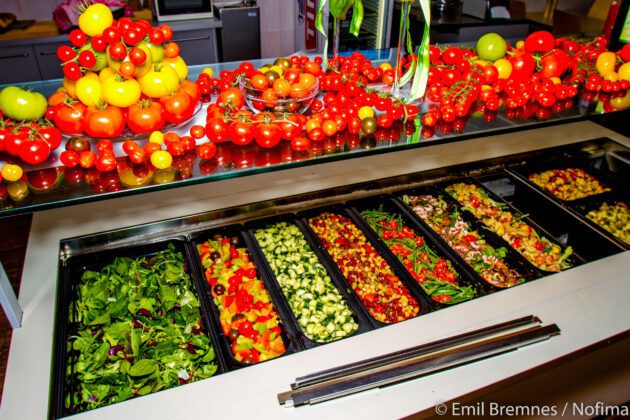 The aim of the project is to establish an iteractive model for cooperation between food producers and canteens to speed up innovation and do research to increase the number of sustainable food alternatives in canteens and grocery stores.
Funded by
The Research Council of Norway IPN
Cooperation
Coor, Orkla, Hoff, Foodback and Æra.
Background
Almost 70% find it difficult to follow the dietary recommendations and to choose a sustainable food alternatives.
Around 1.1 million lunches are eaten in canteens in Norway every day. Canteens are therefor an arena for the introduction and testing of more sustainable food products, but new competence and a model of cooperation between the marked actors is required.
Goal
The project aims to establish a collaboration model in the food industry between food producers and canteens to increase the pace of innovation and conduct research to increase the share of sustainable food in the catering industry and stores.
What we do
Competence development in canteens by understanding current competence regarding sustainable food, establishing a project standard and creating a first version of a training program.
Understand consumers' food choices in canteens and develop interventions / measures to increase the intake of sustainable foods. This is where Nofima's consumer research and innovation expertise comes in through surveys, interactive focus groups, workshops and observations.
Understand the product development process and the possibility of using canteens as a test arena (case studies).
Develop a new collaboration model / business model between the players as well as a new digital platform for data and insight generation between the players. This is where Nofima's innovation expertise comes in.