Revolutionizing the quality control of white fish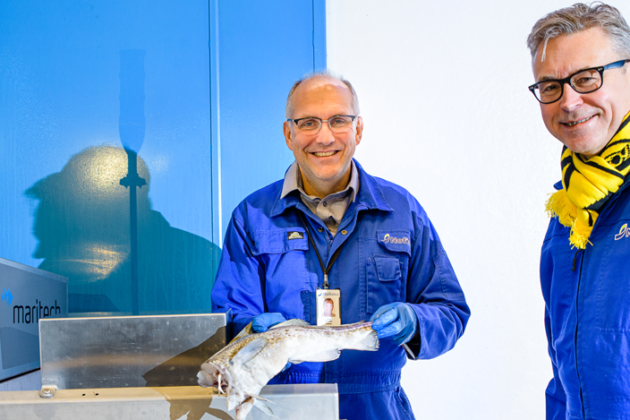 The machines are built and the technology is ready to use: Fish producers can now establish if they have caught world-class cod even before the fish is gutted, using light-based quality inspection of whole fish which can be done at industrial speed.
On Monday 23 November, Maritech, Nofima and Norsk Elektro Optikk (NEO) together with their industrial partners Lerøy Norway Seafood and Lerøy Havfisk proudly announced the launch of Maritech's hyperspectral vision machine – an innovation that may revolutionize the Norwegian fishing industry.
Launched by the Minister of Fisheries
The Minister of Fisheries and Seafood, Odd Emil Ingebrigtsen, kicked off the official launch by sending the first fish through the machine that can identify the fish's quality through its skin.
"This is a great day! A day of champions in several ways", said an excited Minister of Fisheries and Seafood, who – donning the yellow and black Bodø/Glimt football scarf – also celebrated North Norway's first football league championship win.
He says the people who developed the new quality inspection technology also had every reason to celebrate as champions on Monday.
"This project is a prime example of the possible achievements when the business and research communities collaborate on technical innovations. Better quality sorting will increase profitability and the reputation of the Norwegian seafood industry", said Ingebrigtsen.
Facts about the machine
• Maritech is the largest global software provider to the seafood industry, and has developed the machine which is now ready for commercial sales.
• For 16 years, Nofima researcher Karsten Heia has collaborated with technology developers in NEO who have developed a hyperspectral camera for quality measurements of round fish.
• Lerøy Norway Seafoods is a leading whitefish producer and part of the Lerøy Seafood Group, a world-leading seafood company. The industrial trial was carried out at Lerøy's Båtsfjord facility in Finnmark.
• The quality measurement machine will also be tested on board the ocean-going fishing vessels of Norway's largest trawler company, Lerøy Havfisk AS.
Representatives from all stakeholders involved in the development were present during the launch, which took place on Monday at the pilot hall of Nofima's research facility at Tromsø.
Due to Covid-19, not everyone who wanted to could be present during the launch of this new innovation, so the launch was live-streamed on YouTube (aktuell lenke til opptak, hvis slikt er tilgjengelig ved utsendelse av pressemelding) in order to allow all interested parties to observe the event.
More consistent quality of raw materials
This technological innovation is the result of the KVASS research project on the quality measurement of whitefish through analysis of spectral images in real time, which is a business-led project funded by the Fishery and Aquaculture Industry Research Fund (FHF).
The project partners have great expectations for the impact of the machine in the industry.
– Lerøy works every day to raise the quality at all levels of our production of high-quality seafood. With this project, Lerøy has contributed to the development of a technology that provides a better and more consistent raw material quality, which in turn delivers seafood of an even higher quality to our customers," says Roy Martin Martinsen, Quality Manager for whitefish as a raw material in Lerøy Norway Seafoods.
– The intention is that this machine can be implemented in a process line and also contribute to a more efficient production by sorting the raw material based on different qualities in a fish grader" says Martinsen.
Currently the imaging spectroscopy technology is able to detect blood accumulation in ungutted (whole) fish. Roy Martin Martinsen expects that this technology will be developed further to allow the industry in the future to assess even more quality parameters and become even better equipped to deliver quality seafood to consumers.
Raising the quality of trawl capture
Lerøy Havfisk AS is Norway's largest trawler company with ten vessels and 29.6 trawler licences for cod. In recent years, the company has placed a great emphasis on raising the quality of trawl-caught fish, says Operations Manager Odd Johan Fladmark. He looks forward to using the new tool in this work.
"With the KVASS scanner, we now see the possibility of being able to better sort the catch on board based on quality, which makes it possible for us to offer a fully sorted raw material which is in line with the scanner's objective. We believe this will give us a better price for the fish and improve profitability for the onshore facilities", says Fladmark.
Stronger reputation
Those who have worked on the development of the technology are also hopeful and proud to have participated in a historical industrial development in the fishing industry, and hope to see a significant impact on the industry.
Maritech has worked closely with both scientists and the industry to develop the machine, and are very pleased with the result.
"This project excited me due to the possibilities which the objective quality measurements of the total volume of fish passing through the production lines provide us with in terms of a) analyses for uncovering possible process improvements and b) correct utilization of raw material based on its quality, and of course the possibilities for optimizing factory operations", says Odd Arne Kristengård, CEO of Maritech.
He points out that the associated reduction in wastage and quality complaints will result in increased profitability and sustainability.
"The solution represents a significant competitive advantage which may transform the entire industry as well as help boost the reputation of Norwegian seafood exports further", says Kristengård.
Watch film
In Norwegian language.
– World leader
Trond Løke is the managing director of Norsk Elektro Optikk AS, which has been developing hyperspectral cameras (HySpex) since the early 2000s and is currently collaborating with prestigious Norwegian and international research communities.
"Nofima was our very first client and bought their first hyperspectral camera in 2003. I find it particularly enjoyable that, together with Maritech and in collaboration with Lerøy and Havfisk, we have now developed a complete commercial product which will revolutionize the quality control process for whitefish. For NEO it's an extra feather in our cap that the fishing industry, a cornerstone of Norwegian industries, is among the first in the country to seriously take advantage of the hi-tech solution hyperspectral cameras represent. In this field we are actually world leaders", says Trond Løke.
Proud and excited scientist
Without Nofima scientist Karsten Heia, the machine that was launched on Monday would never have seen the light of day. He has been working on developing this technology for decades. The first time he attempted to measure the quality of fish by using imaging spectroscopy was in 1997. Back then it took half an hour to inspect a 10 x 10 cm skin-free piece of fish. Now, the machine can assess whole fish with skin at industrial speeds.
"Today I am both a proud and excited scientist. Being able to utilize imaging spectroscopy in an industrial setting is a major milestone for me as a scientist, for Nofima as a research institute and for the Norwegian fishing industry. The fact that we, as an institute for applied research, using funding from the FHF, can contribute to uplifting the Norwegian business community in terms of both technological developments and innovations in the food industry, is a big deal", says Karsten Heia.
He is pleased to see a constant and increasing demand for the new machine.
Now the wait is over.
Contact person