Winning gold for virgin herring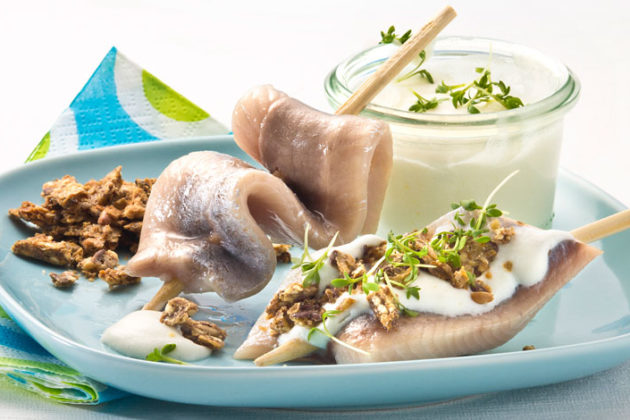 Nofima is a proud backer as the product virgin herring, which was developed only a few years ago, attracts young customer groups and wins gold in Germany.
Friesenkrone, who market virgin herring from the North Sea under the brand "SJØ," is actually making herring trendy in the German restaurant market.
Friesenkrone has launched virgin herring in both sushi and tapas varieties, and with a number of different flavours. And if that wasn't enough: In the July issue of food magazine "Küche," Friesenkrone has attracted a lot of attention in Germany as gold winner for the herring product "SJØ" in the "Küche Awards". This is the 13th time the institutional household magazine names the best new products in 22 different raw material classes. "SJØ" was awarded gold in the "Fish and seafood products" class.
"We can't take the credit for the products, only for the process behind the virgin herring raw material. German producer Friesenkrone has done an amazing job on developing the raw material and aligning the product for the market," says Torstein Skåra, senior researcher with Nofima.
Project from 2012
However, the origin is Norway and the North Sea, and the young herring that are harvested in an extremely short season just before becoming ready to spawn.
In 2012 Torstein Skåra and Morten Heide at Nofima were tasked with participating in the development of new herring products. The project was funded by the Fishery and Aquaculture Industry Research Fund (FHF), and processes were developed to adapt the herring products' taste and texture properties to the market's desires and needs. The actual work was carried out at and in cooperation with Egersund Seafood – now Pelagia.
In partnership with Norwegian industry, innovative processing businesses were then identified in two markets, Ukraine and Germany. Opportunities and barriers for the introduction of new herring products were identified. Particularly long-term relationships with Norwegian businesses were emphasized as key to develop new herring products. In the next stage Nofima conducted market evaluations of selected herring products that were developed in the project by the foreign companies.
Virgin herring
"The results from these market evaluations showed that these herring products were perceived as new in the markets. Further, businesses that were interested in developing the products were identified, which resulted in Friesenkrone, in partnership with Pelagia, developing one of the products," says researcher Morten Heide.
"We called the product 'virgin herring,' which is a mild fillet variant of the Dutch traditional product 'matjessild.' Virgin herring is less salty, and is developed from fillet. Usually Dutch matjes is made from gilled and gutted or headed herring that is matured in brine," Skåra explains.
Virgin herring is currently produced without skin. Since production is from fillet, it is rational in terms of production, and more consumer-friendly. At the same time valuable by-products are available for further processing into fishmeal and oil, and transport costs are reduced.
Germany and China
"The popularity Friesenkrone is establishing for herring in Germany bodes well for other potential markets. And a trial is planned in China," Skåra says.
As the season for virgin herring is so short and access to the raw material is limited, he hopes the attention this herring product attracts may contribute to a comeback for herring in general.
"Friesenkrone has been good at getting young, creative chefs to come up with new uses and flavours for the herring. The virgin herring that Friesenkrone is currently marketing has been given flavour additives such as chocolate, onion, fresh cheese and dill. The sushi variant is served completely virginal, without other additives than the sushi rice. The fact that they are now starting to win awards for their work is incredibly satisfying. It's really rewarding being a scientist when something you have been a part of turns into specific new products that many people enjoy," Skåra says.
Virgin herring
Virgin herring is made from the same raw material as Matjessild. The Dutch word "Maatjes" means virginal. Herring used for matjessild and virgin herring are three year old mature herring that have not yet developed roe or milt. This herring contains a lot of healthy fat.
Only the best herring may be used as a raw material, and matjessild production has become a major industry in Norway. Every year around 140 million matjessild are produced along the Norwegian coast. It is important for the raw material that the herring is fat and that it has eaten copepod. Copepod ensures that the fish is full of enzymes. These ensure a fast tenderization process that has to be stopped at the right time by freezing the herring.
Contact persons