New techniques ensure better utilisation of resources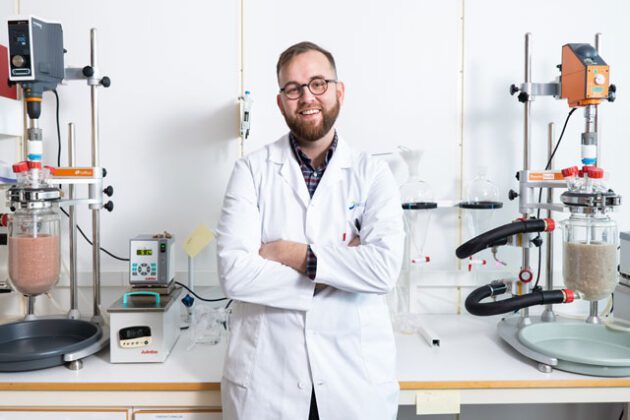 There is a lot of protein in the parts of a chicken that are not used for food, parts such as the carcass and cartilage. This is why Nofima is conducting a lot of research on how best to utilise these proteins.
As part of his doctoral thesis, Nofima's Kenneth Aase Kristoffersen has researched how proteins from parts of chicken, turkey, salmon, cod and mackerel that are not used for food can be better utilised. He has developed new techniques with a type of sensor technology called FTIR spectroscopy. It is a type of technology that uses infrared light to initiate molecular vibrations in a sample. In just a matter of seconds, information can be gathered about the molecules that are present in the sample.
"Being able to contribute to increased sustainability is a great incentive for me. According to the United Nations, livestock production accounts for 14.5 percent of greenhouse gas emissions, while only about half of each animal is used for food. I want to help significantly increase this share", says Kenneth Aase Kristoffersen.
The enzymes break down the protein chains
The starting point for Kenneth's doctoral thesis is enzymatic protein hydrolysis. This process is now being used more often at an industrial level. Kenneth's goal has been to develop techniques that allow the so-called enzymatic protein hydrolysis process to be monitored in the industry, on the process line.
Enzymatic protein hydrolysis is already being used, but there are several conditions that play a role where the value and use of the product in the food sector could be considerably higher. Among other things, these include large variations in raw materials and little possibility to quality control the end product. Therefore, the work entails developing quicker techniques to measure, monitor and control the process in relation to achieving higher protein and peptide quality.
"It is necessary to monitor the process carefully in order to extract the exact proteins and peptides one wants. This is where Kenneth's research plays a role. He has developed a method that can quickly and effectively measure the degree of hydrolysis and the average molecular weight. These two parameters help to indicate the quality of the protein product", says Nofima scientist Nils Kristian Afseth, who is also one of Kenneth's supervisors.

Continuing at Nofima
Kenneth will continue to work on new research tasks at Nofima as soon as he has finished defending his doctoral thesis. As a postdoc in the project called Notably, he will look further into the properties of the proteins and peptides and try to find out what these are best suited for.
"Kenneth's work has helped develop the analysis platform we need to better understand what happens during an enzymatic protein hydrolysis process. In Notably, we will continue to work on these techniques in order to develop multistep processes. Therefore, in an even better way than is currently possible, we can utilise all the different chemical components found in residual raw materials from poultry and fish", says Nils Kristian Afseth
The first disputation associated with Nofima's strategic research initiatives
Kenneth is the first PhD student involved in Nofima's strategic research initiatives to publicly defend their thesis. His work has been part of the Peptek project.
Kenneth publicly defended his doctoral thesis on 12 December 2019. Professor Svein Jarle Horn (NMBU), Senior Scientist Nils Kristian Afseth (Nofima) and Scientist Diana Lindberg (Nofima) have been Kenneth's supervisors.
The trial lecture took place on 30 October 2019 at Nofima and the title of the lecture was "Food and non-food applications of collagen peptides, effects of feedstock source and processing conditions"
Publications
Facts about Peptek
Using modern, research-based processing technology and expertise, unused or left-over biomass (residual raw materials) can be transformed into new, marketable products.
We coordinate, further develop and increase Nofima's combined expertise related to future sustainable protein production.
Contact person