NoLTANet
Establishing a Norwegian Low Trophic Aquaculture Network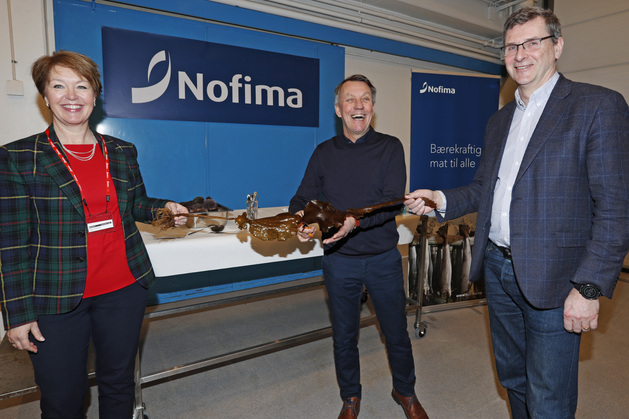 The project will create a network of Norwegian stakeholders involved and interested in Low Trophic Aquaculture (LTA).
Funded by
The Research Council of Norway
Cooperation
Bellona, UiT The Arctic University of Norway, Norce
Press release
This is a rapidly expanding research and innovation area, there are many Norwegian industry, research, and other organizations working in this field, but there is currently no common forum where they can meet, discuss, and exchange views and practices.
NoLTANet will alleviate this situation by establishing a network with at least 30 members, by producing newsletters, by setting up a website with a discussion forum and links to relevant news stories, articles, reports, conferences, and initiatives, and by hosting at least two plenary network meetings.
NoLTANet has been designed to interact with three ongoing H2020 projects:
These projects contain a number of outreach activities; both activities designed to disseminate and communicate from these projects to interested parties, and activities designed to elicit preferences and requirements from stakeholders to inform the planned research, innovation, and standardization activities (AquaVitae will make a European LTA standard).
NoLTANet will ensure that Norwegian LTA organizations are in a position to utilize the outputs from these projects, and also that the views and preferences of Norwegian stakeholders are taken into consideration in the upcoming research and standardization activities.
Early drafts of upcoming European research work programmes (Horizon Europe in particular) indicate numerous funding opportunities for LTA related research; NoLTANet will engage and inform Norwegian LTA organizations about these calls and ensure significant Norwegian participation in future European projects in this area.
Background
In response to a request by DG Mare, the "Science Advice for Policy by European Academies" committee published the SAPEA Evidence Review Report "Food from the Oceans" in November 2017. The main question addressed was "How can more food and biomass be obtained from the oceans in a way that does not deprive future generations of their benefits?". The overall conclusion in the report executive summary is clear:
"the greatest and most feasible potential identified for expansion globally lies in … marine aquaculture … notably of herbivore filter feeders (e.g. molluscs) for direct human consumption or, together with cultivated algae, as a more ecologically efficient source of feed for farmed marine carnivores (e.g. finfish, shrimp, etc.)".
This conclusion is echoed in many other similar reports and policy briefings, and it has led to a number of recent research and innovation projects and initiatives.
One of the biggest European projects in this area is AquaVitae, coordinated by Nofima, which has the stated overall goal "To sustainably increase aquaculture production in and around the Atlantic Ocean by developing new and emerging low trophic species and by optimising production in existing aquaculture (low and high trophic) value chains under the principles of circular economy."
NoLTANet is a stand-alone project designed to set up and maintain a network of Norwegian stakeholders involved and interested in Low Trophic Aquaculture (LTA).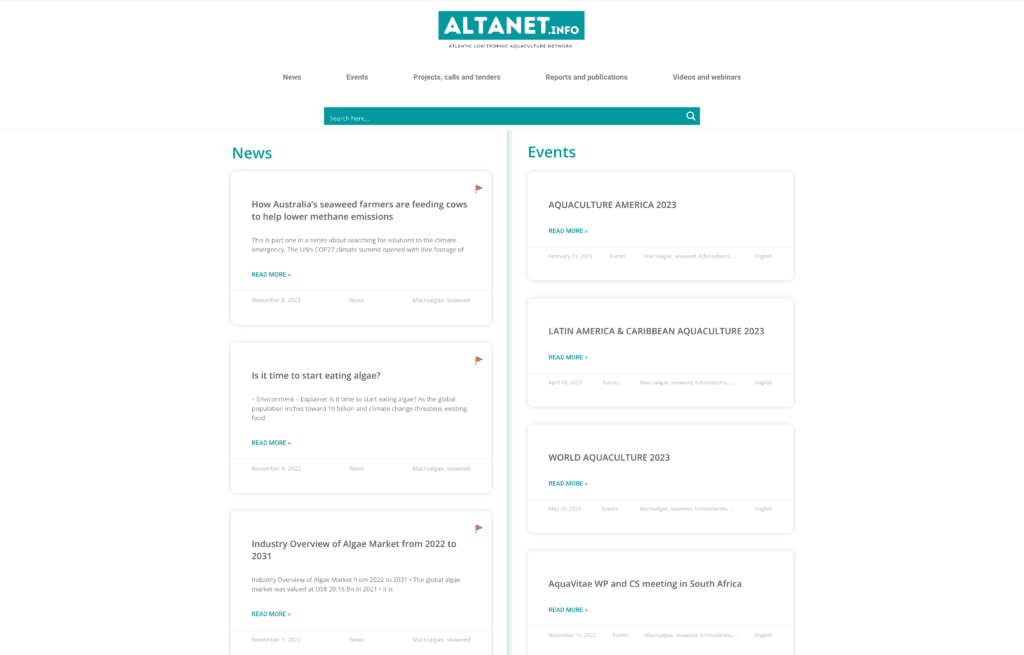 Altanet.info
The most important deliverable from the project is the web-based information hub "AltaNet" (Atlantic Low Trophic Aquaculture Network, https://altanet.info/) with links to information about projects, announcements, webinars, publications, news, websites and images.
Since the interest in low-trophic aquaculture extends beyond Norway's borders, the website contains information about low-trophic aquaculture in the entire Atlantic region.
What we do
The website AltaNet has been created and is up and running. We used artificial intelligence with a web crawler gathering from the web for the latest low-trophic aquaculture news and automatically populate the "news" section of the website.
Until now internal meetings were held online, and a final workshop was held in January 2023 in Tromsø as a place of exchange between industries, researchers, and policy makers to discuss latest achievements, good practice recommendations, and bottlenecks in the LTA field.