Millennial Salmon
Microalgae and insect meal for sustainable feed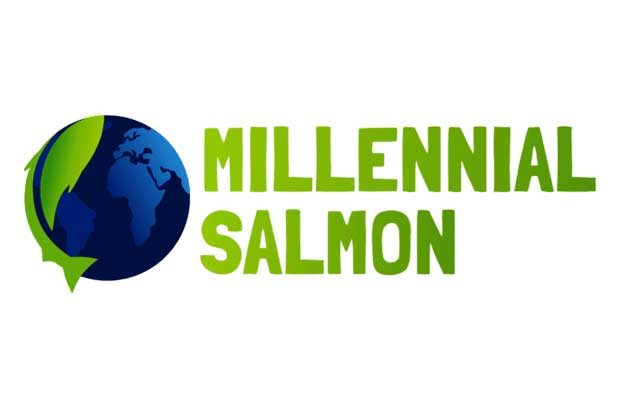 The "Millennial Salmon" project is aiming at creating a knowledge based sustainable product that answers to modern Millennial principles of life, considering technoeconomic, animal welfare, environmental and societal aspects as a whole.
Funded by
Research Council of Norway - KSPSAMARBEID20 (Collaborative and Knowledge-building Project)
Cooperation
InnovaFeed, Corbion Algae Ingredients, Cargill, MOWI, Labeyrie fine foods, SINTEF Ocean and Auchan.
Millennial Salmon is a strategic partnership among organisations along the value chain of salmon production. The cooperation of two feed ingredient producers, Innovafeed and Corbion, operating with minimum land and resource demand compared to competing alternatives, and the project's focus on the Life Cycle Assessment (LCA) approach to provide a comprehensive figure on climate impact, will set the stage for a Millennial generation salmon in the markets.
Developing microalgae and insect ingredients
The project concept is based on utilising efficient technologies such as fermentation and circular economy transformation of industrial agriculture side stream biomasses into microalgae and insects for a sustainable production of low trophic species for ingredients for aquafeed.
The combination of Corbion DHA-rich Schizochytrium sp. biomass and Innovafeed Black Soldier Fly Insect meal will enable satisfying large parts of the nutritional requirements of salmon in high quality proteins and long chain omega-3 Polyunsaturated Fatty Acids, allowing for sustainable future growth in salmon industry reducing dependency on primary natural resources.
The project works on maximising dietary inclusion of microalgae and insect meal substituting large part of fish meal, soy protein concentrate and fish oil without negative effects in salmon health, welfare and performance or in the physical feed properties, as well as to demonstrate the environmental and societal aspects of the suggested innovation. The Millennial salmon project will have significant European impact including leading stakeholders from Norway (Nofima, Sintef Ocean, Cargill, MOWI), the Netherlands (Corbion) and France (Innovafeed, Labeyrie fine foods, Auchan).
Image gallery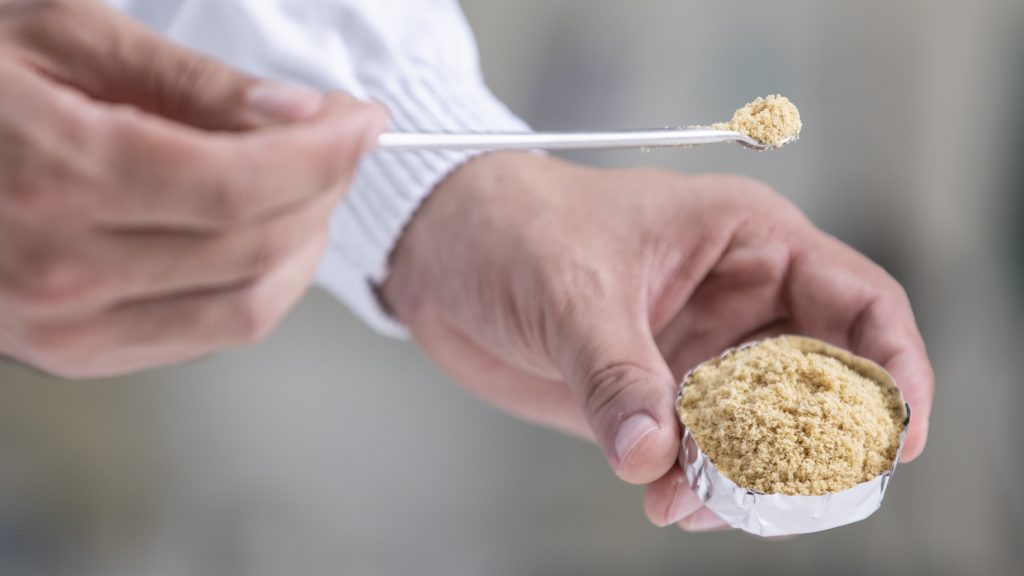 Impact of the project
Aquaculture is the fastest growing food production sector in the world, and it is also one of the youngest, in constant change, highly innovative and adaptable. As consumers become more and more educated and passionate about the sustainability of the value chains where they are sourcing their food from – the aquaculture sector is challenged to implement sustainability in practice and in a visible way, sometimes before all necessary knowledge to secure relevant critical aspects are in place.
This project will create the roadmap for a new, knowledge based and highly visible salmon value chain – "Millennial Salmon". Both microalgae and insect-based ingredients have been of interest for the Norwegian aquaculture sector in the last decade and can be an important form of value creation for a more sustainable aquafeed and salmon production in Norway, enabling the production of more healthy food for a growing population and a more sustainable industry less reliant on international imports.
Aims of the project
The aim of the Millennial salmon is to develop the world´s most sustainable farmed salmon using novel ingredients, with low carbon footprint, focus on circular economy and millennial principles of life:
A) Living healthy, B) Having a purposeful life, C) Trusting Peers & D) Consider Societal and the Environmental impacts, implementing responsible innovation actions through strategic collaboration between leading research institutes and commercial actors including world-wide leading microalgae and insect producers, a feed producer, a salmon producer, and a retailer.
The secondary project objectives are to:
Provide down-stream processing and extrusion technology solutions,
Establish practical EPA requirement of large salmon in the sea fed DHA-rich microalgae,
Develop LCA and go to market strategy for the Millennial salmon value chain
Identify potential insect meal functional effects on fish health & welfare, and microalgae fatty acid stability in feeds.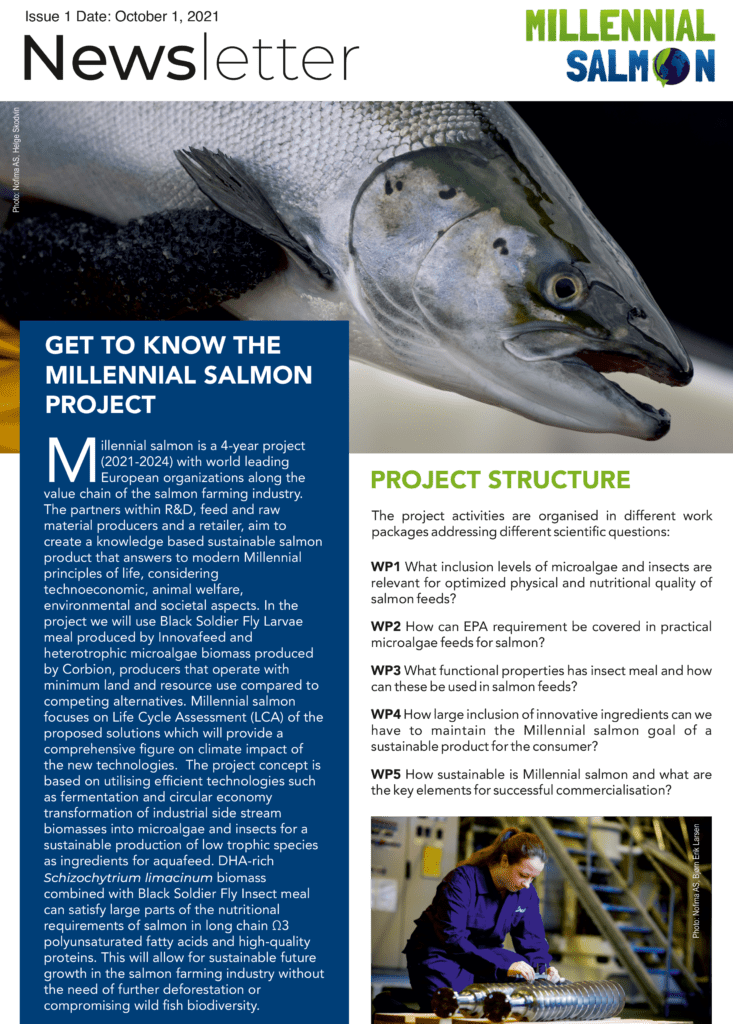 Newsletter
Here you may read the Newsletters from the project.
Do you want to subscribe to the Newsletter? Contact Aikaterina Kousoulaki.
Watch film about Millenial salmon
In this film you will meet:
Project manager/Senior Scientist Aikaterina Kousoulaki (Nofima)
Andrew Richardson (Innova)
Clément Ray (Innovafeed)
Geir Ivar Lanes (Corbion)
Ted Molland (Cargill)
Magnus Myhre (Sintef Ocean).
News from the project:
Partners