Record amounts of fish in live storage in 2015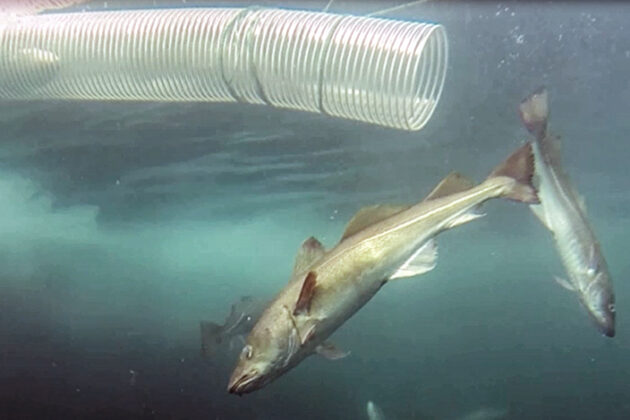 Never before have such large quantities of cod been held in live storage in Norway. Scientist Øystein Hermansen of Nofima can report that the "quota bonus" that was introduced in 2013 is working as intended.
In brief, the quota bonus means that each tonne of cod delivered to live storage corresponds to only half a tonne from the fisherman's quota, which means that he or she can, in theory, take twice as much fish on the current quota.
In practice, however, no-one can fill their complete quota with live fish. This is not only because there is insufficient demand, but also because some of the fish are injured during the capture process and are slaughtered during on-board sorting.
Live storage of fish secures a better supply of fresh fish, and in this way gives greater opportunities for obtaining higher market prices.
"Furthermore, the quality of cod kept in live storage is very high. Most of it is sold as gutted and packed in ice, before being placed straight onto the fish counter," explains Hermansen.
15 producers – 6,000 tonnes
Around 15 commercial producers have purchased cod for live storage during 2015, and the amount they have acquired has grown explosively. From a level of just under 2,000 tonnes kept in live storage in 2013, the amount had grown to nearly 6,000 tonnes last year. The cod is normally kept in the cages for 8-12 weeks, and both the producers and the scientists are slowly gaining experience with the storage of wild-caught cod and the marketing opportunities that this method gives – which is, of course, the purpose of the quota bonus.
"Several different incentives for increasing the amount of fish kept in live storage have been introduced in the past. The quota bonus was tried for the first time in 2008 and resulted in an increase in activity, but this year's increase has been greater. At that time, the quota was reduced by 80% of the amount kept in live storage. This year we have applied much more powerful incentives, which has resulted in some boats becoming extremely active and several new producers starting trials with the method," says Hermansen.
"There is a large variation between producers, both in their geographical distribution and in the amounts they purchase. The greatest amount purchased in 2015 was 1,000 tonnes, by a producer who had many years' experience."
But there is a wide variation: some have used live storage for as little as 50-60 tonnes, and are trying out the method for the first time.
More experience needed
"Live storage is still at the research stage, and we need someone to pioneer the way and gain experience, so that we can make sensible decisions in the long term. At the moment, for example, we don't know accurately how profitable the method is," says Øystein Hermansen.
"We need more insight into the costs, but the greatest uncertainty is probably associated with the potential for income. The producers are seeking to exploit several sources of value. Having fish available when the weather is unsuitable for traditional fishing gives higher prices. Further, extending the period during which fish are available beyond the relatively short capture season means that it is possible to take advantage of rising prices when the supply of fish falls. And, finally, the improvement in quality that is achieved from live storage means that a greater fraction of the fish can be sold on markets that pay best."
Hermansen points out that uncertainty in the supply of fish has contributed to the difficulties experienced by the suppliers concerning long-term contracts and campaigns with supermarket chains and other sales channels.
"Live storage makes it easier to meet customer requirements for predictability. And another important aspect is being able to calculate the degree to which added value can be gained as a consequence of the security of supply achieved in this way. Experience has also suggested that a certain period is required to change customer awareness and behaviour. It is for this reason important that fish from live storage are available on the market for some years," says Hermansen.
It was initially intended that the quota bonus system would be in effect until the end of 2017, but it has now been decided to extend it .
More than 12 weeks
"Most producers are currently allowed to store live fish for up to 12 weeks. The aquaculture facilities are located as close as possible to the fishing site, in order to have simple access to the fish no matter what the weather. When purchasing fish, a small boat is despatched that collects the quantity that has been ordered," explains Hermansen.
A certain degree of relaxation of the regulations allows producers to obtain permission to store fish alive longer relatively easily, but so far no-one has applied for such permission.
Based on Øystein Hermansen's conclusions so far, several producers desire to store live cod for longer than 12 weeks. This is associated with the fact that the price of cod increases significantly after the summer holidays in Norway. The current capture season extends from March to May, and live storage for 12 weeks does not extend the season sufficiently to be able to exploit this market.
"There seem to be two main reasons that aquaculture facilities do not apply for permission that would allow them to exploit this increase in price. The first is that it is difficult to find suitable facilities for the storage, and the second is uncertainty about the regulations. If the aquaculture licence sets stringent requirements for slaughter and the collection of water with blood, significant investment will be required in the slaughter facility. So far, no-one has seen their way to undertaking this," explains Hermansen.
Since the regulations have not yet been tested in practice, some uncertainties remain. It will be necessary for the Directorate of Fisheries and the Norwegian Food Safety Authority to get involved and determine how cod that has been stored in cages for more than 12 weeks is to be slaughtered.
"Apart from this, it appears that the regulations are functioning very well, and it is only details that may need to be changed," says Hermansen.