Northern salmon popular in South Africa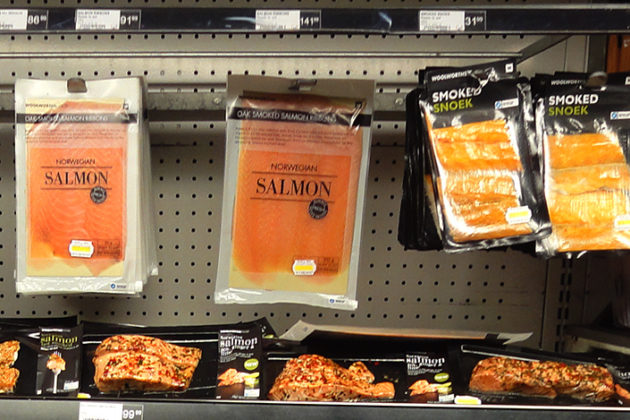 In South Africa Norwegian salmon has a market share of 90 per cent. And the South Africans emphasize the salmon's origin, recent market research from Nofima shows.
Markets with high purchasing power are of particular interest to the growing Norwegian salmon industry. South Africa is such a market, and demand for Norwegian salmon has grown in line with positive economic development in the country.
In 2014 Norwegian companies exported around 4,290 tons of salmon to South Africa at a value of NOK 181 million, which is significant growth compared to previous years.
But how can Norwegian salmon distinguish itself from other salmon providers and maintain its favourable position? There was little systematic knowledge on issues and opportunities in the South African market, but now Nofima has analysed the market situation for Norwegian salmon in South Africa on behalf of the Fishery and Aquaculture Industry Research Fund. The analyses apply to both fresh and frozen products.
Favourable trade agreement
The results show that the South African market for farmed salmon has seen very positive developments in recent years. The overall market has slowed down somewhat as a result of higher salmon prices and a lower exchange rate for the South African rand. The trade agreement between EFTA and the South African Customs Union made Norwegian salmon exempt of duty from 2015, while competitors from countries such as Scotland and Chile still have 25 per cent duty. This has given Norwegian salmon a significant competitive advantage and contributed to increasing the market share of Norwegian salmon to almost 90 per cent.
Norwegian salmon sells
A large proportion of the salmon imported to South Africa is fresh and is used for sushi in restaurants.
"Up to 80 per cent of all seafood used in sushi in South Africa is salmon, so we can safely say that salmon has a very strong position in sushi," say Nofima researchers Geir Sogn-Grundvåg and Morten Heide.
Salmon also has a strong position in the grocery market. There are many different salmon products, and new ones are constantly being brought to market. Salmon often has a preferential position on the shelves, which indicates that salmon is an important product for the supermarket chains. One also tends to emphasize the salmon's origin.
"Norwegian origin is frequently used both in shops and restaurants in Cape Town. In Johannesburg we found only salmon of Scottish origin in the restaurants, while Norwegian salmon was most prevalent in supermarkets," the researchers say.
Higher prices – what now?
However, the price of salmon has risen, and along with a weaker local currency and costly air freight, the price increase has made fresh salmon expensive for South African buyers. The researchers have also investigated how the market has reacted to this.
They found that prices have risen in both shops and restaurants, but also saw that frozen salmon, which has lower freight costs, has replaced fresh salmon where this is viable. More and more grocery chains sell thawed salmon instead of fresh. Additionally, the size of portions in consumer packs has become smaller, while the price per pack has remained the same.
The researchers hope the results of the project may help Norwegian salmon producers and exporters in their marketing work.
"Detailed knowledge of the market can strengthen the position of the Norwegian exporters in negotiations with the importers and thus contribute to them being perceived as competent partners," Geir Sogn-Grundvåg concludes.