Indoor production of stockfish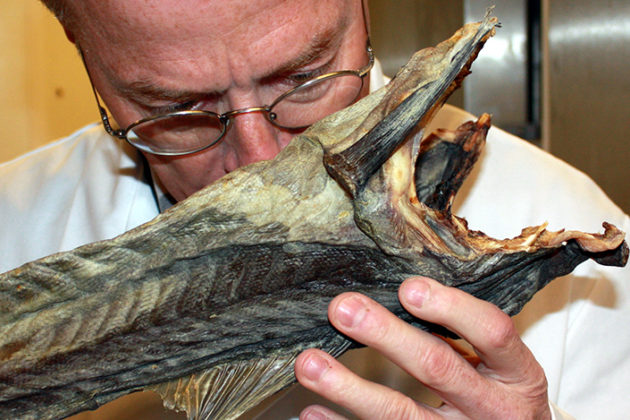 Dried stockfish is a traditional natural product that is subject to natural variations in quality, as the fish is dried outdoors. An exporter in Bergen wanted to ensure stable quality and came up with an idea for a new drying process. A scientist from Nofima has now taken the original idea and developed a process for the indoor drying of fish. Stockfish produced by the new method has been approved by connoisseurs in Italy.
Nordahl Anthonisen of Athena Seafoods AS in Bergen came up with the original idea:
"The quality of stockfish depends critically on the weather conditions during traditional outdoor drying. It was my dream to be able to control the conditions in which the fish was dried, so that we can sell only excellent quality dried fish to Europe, and in particular the Italian market which is the biggest single market for prime quality stockfish" says Anthonisen.
For this reason he drew relevant companies and research institutes in Europe, together with scientist John-Erik Haugen, into an EU project. The results of the research show that it is possible to produce dried fish indoors, from fresh headed and gutted cod, which is the raw material used in traditional outdoor production of stockfish.
A new process
John-Erik Haugen is a senior scientist at the food research institute Nofima. At his laboratory in Ås, he has developed an efficient indoor drying process that gives high-quality dried fish. In addition to using traditional raw materials, he based the development work on the optimal weather conditions for traditional outdoor drying.
While traditional outdoor drying on racks takes approximately four months, Haugen needs less than one month to produce high-quality dried fish indoors.
The EU project has included provisional cost-benefit calculations, and these show that the new method is economically viable.
The Italian food-produce company Il Ceppo has 80 years of experience with dried fish. Personnel from the company participated in the project and evaluated the appearance and smell of the fish dried indoors. Il Ceppo has also carried out consumer surveys in Italy in which blind tests were carried out of fish dried indoors and outdoors, based on traditional Italian dishes.
"These initial tests indicate that the pilot product is of high quality, and the dishes based on fish dried indoors are just as good as those based on traditional outdoor products," says Haugen.
A presentation film of the indoors production and samples of the pilot product from indoor drying were presented at the annual seafood trade fair, Seafood Expo Global, in Brussels in April:
A patent has been applied for to cover the new process.
Support for innovation
Anthonisen's original idea of indoor drying was promising, and he needed support for the innovation process. The best way of obtaining support for further collaboration in developing the idea was through a project financed by the EU. The objective of this type of project is to stimulate innovation in small and medium-sized companies, and to stimulate collaborative innovation with the research institutes such that innovations can be brought to reality not only in Norway but also other countries. For this reason, the EU granted full economic support to the R&D project. The companies in the EU project contributed personnel and received compensation for their costs.
Nofima and Athena Seafoods are now working together to further develop the concept, with a view to commercialisation, scaling up to industrial level, and implementation.
Top quality all year round is one of their goals.
Contact person