Poultrynsect
The use of live insect larvae to improve sustainability and animal welfare of organic chicken production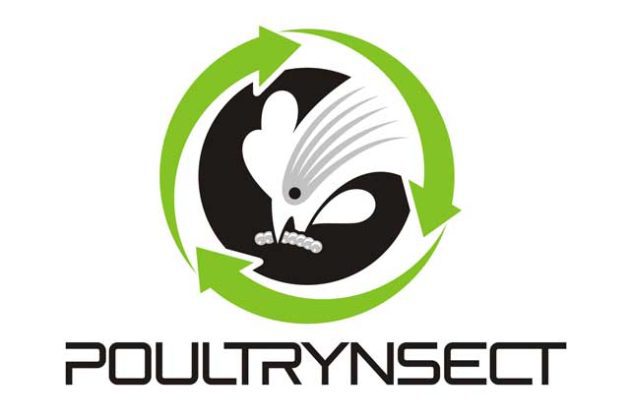 The project aims to test the effect of live insect larvae as a feed ingredient in the production of slow-growing organic chicken to increase sustainability of poultry meat production, improve animal welfare and meet the consumer demands for healthier, more natural and tasty meat products.
Funded by
JPI - SusFood2 Core Organic co-fund
Cooperation
Italian National Research Council (CNR), University of Torino (UNITO), Italy, German Institute of Food Technologies (DIL) and Inagro, Belgium.
Background
Poultrynsect is a research project developed by a consortium of scientists with expertise in agronomy, poultry nutrition, entomology, food and veterinary sciences belonging to Research and Academic Institutions of the four European countries Belgium, Germany, Italy and Norway.
The project aims to test the effects of an innovative feed ingredient (live insect larvae) for slow-growing organic chickens to allow sustainable meat production, to improve animal welfare and to potentially meet the consumer demand for healthier and more natural meat products with enhanced palatability.
Insect larvae will be reared on organic food side streams, allowing the valorisation of secondary raw materials produced in excess from the food industries, and then used as feed ingredient and environmental enrichment in chickens.
Point-source objects (pecking objects and litter/bedding containing insect larvae) will be used to allow species-typical behaviours and maintain animal health, thus resulting in an improvement of birds' welfare and considerably improved quality of animal-derived food products. LCA and Cost benefit analysis will be carried out to define the economic effect of such innovative productions and environmental enrichments in the industrial settings.
Moreover, strategic researches focused on Sensory and Consumer Science to assess consumers' food habits, expectations and preferences associated to sensory panel expert evaluation and in vitro digestibility of chicken meat for human consumption will be assessed by the project.
In conclusion, live insect larvae effectiveness will be evaluated for their potential to improve chicken performance traits, animal welfare, gut microbiota and bird immunity system.
This study will focus on productive performance, mucosal immunity, gut health and meat quality and will contribute to the development of cost-effective and environmental-friendly diets for poultry, aiming at improving organic meat chicken production sustainability.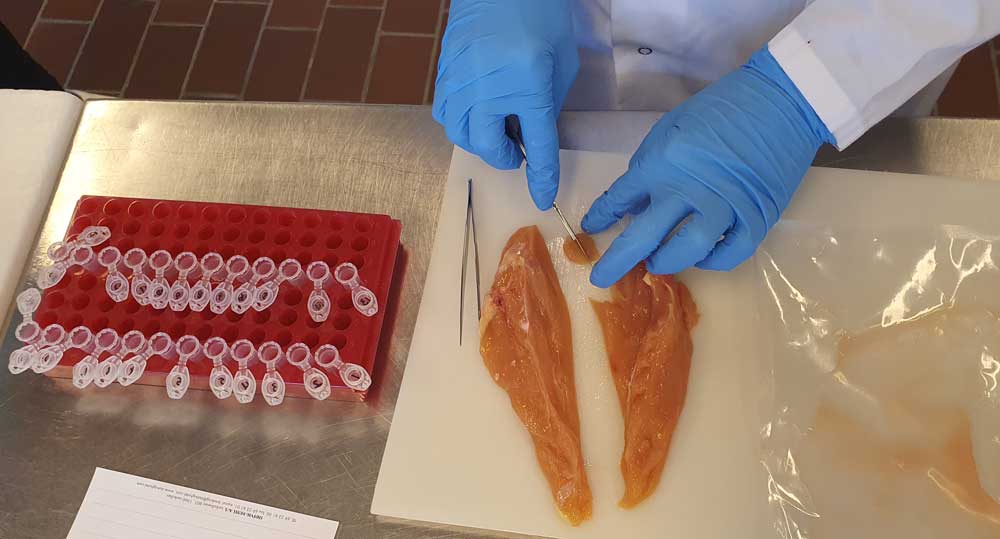 Goal
The project will study the impact of exchanging some of the protein in chicken feed with live larvae on meat quality (sensory, instrumental tenderness, protein digestiblity, oxidation), chicken health (histology, microbiota composition), animal welfare (video recording) and sustainability (using rest raw materials to rear larvae, LCA analysis).
What we do
Nofima focuses on analysis of chicken meat quality ranging from NIR scanning (to check for abnormalities and analyse protein content), via instrumental tenderness (Warner-Bratzler) to health aspects such as presence of oxidation products (TBARS), protein digestibility (by in vitro digestion).
We will also use proteomics to get a deeper understanding of the relationship between insect feed and muscle protein composition.
Video showing NIR scanning
Watch a short video and see NIR scanning of chicken filets.
Visitt the official project website poultrynsect.eu