PhyPhy
Physalia Physalis – Innovative and unexploited source of high added-value cosmetic products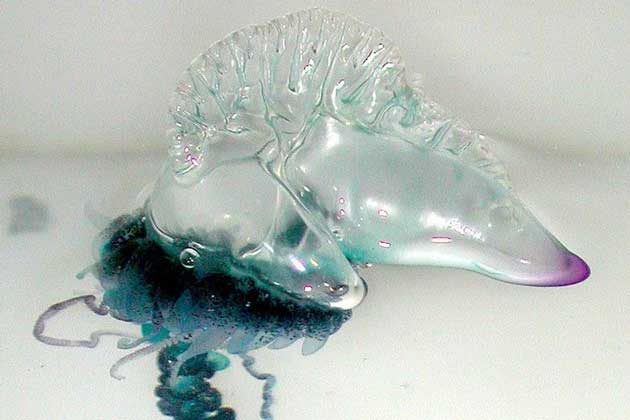 The project aims to extract valuable components from the siphonophore "Portuguese man-of-war" (Physalia physalis) for use in the medical and cosmetic industry.
Cooperation
Centro de Biotecnologia dos Açores - University of Azores (UAç), Centro de Engenharia Biológica - University of Minho (UM), Mesosystem, SA.
Background
According to a FAO report from 2016, half of all fish biomass is wasted, despite its richness in protein and bioactive compounds.
Goal
Physalia Physalis project aims to take advantage of the potential existing in one of the most dangerous and valuable marine species that occupy our oceans and develop a mass extraction process of collagen for commercial purposes (a new range of products for the medical and cosmetic industry).
Sub goal
We intend to extract from this marine biomass other substances, such as a toxin, with potential interest for other industries such as biomedicine and pharmaceuticals.
What we do
The project aims to develop a process of extraction and hydrolysis of collagen and other substances from P. physalis biomass for new formulations of cosmetic products for skin regeneration.
This process comprises the
separation of the toxin from the biomass and the
extraction of collagen.
The project will allow finding the optimal conditions to obtain the maximum extraction yields based on the use of aqueous microwave extraction, ultrasound, high hydrostatic pressures, and membrane processes.
After that, the focus would be on the preparation and functional evaluation of oligopeptide-rich collagen hydrolysate. Here we aim to use a collection of psychrophilic bacteria isolated from deep-sea sediments, which can effectively hydrolyse collagen into peptides.
Studying the optimisation of fermentation conditions to produce extracellular collagenases and the preparation of hydrolysates would be relevant.
The use of commercial enzymes already used for collagen hydrolysis is planned as a contingency plan in case the new enzymes have low yield.
The project aims to apply biotechnological techniques to identify cnidarian poisonous relevant proteins for cosmetic applications. The NCBI database has lack of information about P. physalis´s toxins. Accordingly, an important contribution would be made by generating transcriptomic sequences that will be crucial for toxin identification.
Subsequently, a small plant pilot system for collagen extraction will be implemented, with the main objective of optimising collagen extraction from P. physalis.