VårMat (personalized food)
Strategic focus on personalised food and gastronomy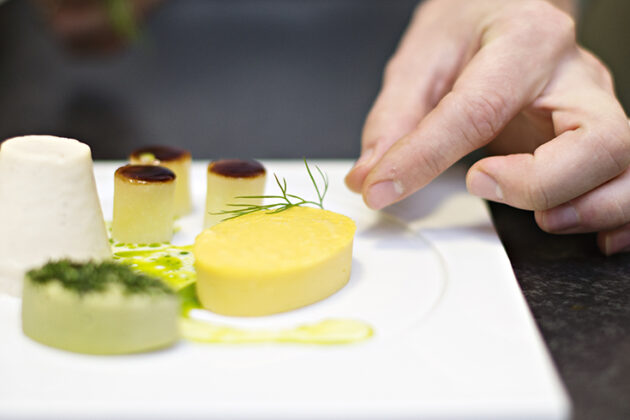 We want everyone to be able to eat good, healthy food – no matter what their situation.
The right foods to eat depend on the individual. Most adults can adjust what they eat to ensure that they have a healthy and varied diet. However, some people need food with a higher content of certain nutrients, while others may need food that does not contain too much sugar, salt or substances that can trigger allergy reactions or cause discomfort. There are many different underlying causes when it comes to personalized food needs, but the common denominator is that food is plays a vital role in our quality of life. If we can develop more foods specific to the individual, we will be able to make food more enjoyable and improve the nourishment and health of more individuals. The right food for the right person will help to prevent disease and thus also contribute to better socioeconomics.
Here at Nofima we therefore believe that more personalized food products need to be produced, making it easier for everyone to find products that meet their specific needs and preferences.
Special focus areas in this research initiative constitute consumer insights, processing, raw materials, and gastronomy. Read more about this further down – but first, some background:
Growing need and demand for personalized food
Consumers today are more conscious of the nutritional content, health benefits, and taste of food than in the past. This increases the need to personalize food for different consumer groups in different stages of life. Authorities are also highly focused on good public health from the cradle to the grave. With good health, more of us will be able to maintain good functional ability longer and thus be able to cope even in advanced age.
There is large market potential in being able to offer appetizing, nutritiously appropriate products to all groups with special needs. Such products will be able to help prevent improper nourishment and malnutrition.
Eating habits are also status symbols, and the demand for specialized products is also increasing among people who do not have health restrictions with respect to normal food. In recent years, we have seen a rise in the popularity of specialized products among consumers in the value-based segments, for example, with regard to a more plant-based and sustainable diet. This means that consumers are requesting products that may have different constituent ingredients than in the past.
To be able to meet consumers' preferences and needs, it is necessary to develop new distribution channels along with new food and meal services.
All these topics are being studied by several research environments throughout the world. Nofima participates in this research through several collaborative projects both nationally and internationally.
About the VårMat (OurFood) Initiative
VårMat was a strategic initiative at Nofima whereby we collected and obtained knowledge of various aspects of food personalization. We put together a solid, interdisciplinary team of researchers and consultants with extensive experience and expertise in different elements of food production. Through gatherings, participation in international conferences and meetings, we established cooperation and exchanged knowledge.
In VårMat, we wanted to shine a spotlight on various consumer groups (such as children, seniors and persons with special needs or preferences) and their need for personalized food. One goal was to contribute with knowledge to business development for collaborating enterprises. We also offered our expertise to the food industry through direct payment consultancy assignments.
Main topics:
Consumer Insights
An understanding of consumers' needs and preferences is critical to the development of personalized products. Equally important is understanding how different products and eating situations affect the appetites of consumers. A challenge for consumers lies in finding reliable channels through which information is provided about the right foods in the different stages of life. It can be challenging at present for consumers to find out if they have special needs when it comes to food.
Processing
Preparation of good meal solutions to be distributed and/or stored requires a certainty that food is safe when eaten. Processing food using different methods contributes to safe and appetizing food. However, specialized food will require changes to product composition, consistency, portion sizes, or product appearance. Specialized products can be both knowledge- and labour-intensive to make since, for example, many ingredients have multiple properties in products, and can thus affect texture, appearance, and flavour. Replacing key ingredients in food can challenge existing processes, and new knowledge is necessary to find the best solutions.
Raw materials
Increasing focus on the full utilization of raw materials has equipped us with new knowledge about marine by-products as a source of nutrients. Here at Nofima we have strengthened our knowledge of marine by-products as a source of protein through several projects. Several consumer groups have an increased need for proteins through their diets. A challenge is to identify which proteins are suitable for different products, and how these can be incorporated into new products and new processes.
Locally-produced and new plant-based ingredients are also playing a growing role in consumers' food choices. For a number of years, Nofima has researched how new plant-based ingredients can be incorporated into existing, known products, and how such ingredients can also replace imported ingredients.
Gastronomy
In the past, few personalized products were available in Norway, and those who did eat them did so owing to a medical need. There is no denying that specialized products have had – and still partly do have – a bad reputation when it comes to their sensory qualities. The products often taste or look different to the original products. Nofima is working to change this. Our goal is to help create such good personalized products that everyone will want to eat them, and that characteristics such as flavour, texture and appearance will not be limiting factors. This is conducive to increasing the market potential of specialized products. Since many people who need specialized products also suffer from a poor appetite, this is a very important focus area in the development of personalized products. In Nofima we are bringing together food science and practical gastronomy by having researchers and chefs work together to develop optimum products possessing the requisite specialized properties combined with high gastronomic quality.
Contact person