InnoFoodAfrica
Climate-smart African cereal, pulse and root crops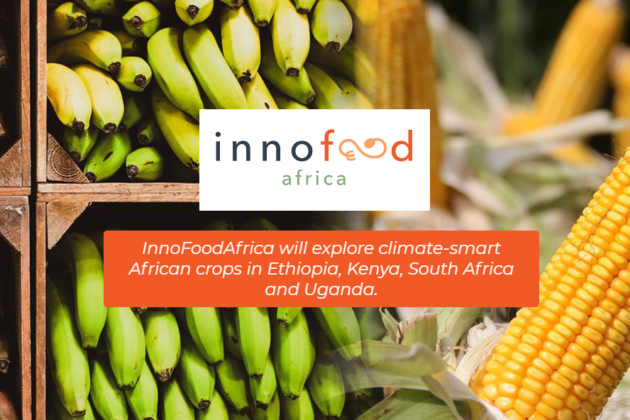 This project will explore climate-smart African cereal, pulse and root crops in Ethiopia, Kenya, South Africa and Uganda and develop and demonstrate optimal solutions for cultivation practices, processing and productization towards new food products, business solutions and value chains.
Funded by
EU - Horizon 2020
Cooperation
18 partners, of which 13 are African and 5 are European.
The project will address key bottlenecks of African food value chains – low productivity, limited access to urban and international markets, affordability and convenience of products. It will tailor actions to develop novel solutions for agriculture, food manufacturing and use of residual biomass for packaging in a local context.
Nofima's role
Research scientists at Nofima in Ås and Stavanger will be involved in the following research fields:
Consumer behaviour
Sensory science
Raw materials
Process optimisation
Objectives
InnoFoodAFrica supports development of resource-efficient, safe and sustainable agro-food value chains by empowering smallholder farmers, producers and consumers via co-creation process with African and European experts.
InnoFoodAfrica focuses on country-specific adaptation and implementation of plant-based diets tackling malnutrition of small children breast-feeding mothers and adults under the risk of obesity.
InnoFoodAfrica focuses on increasing resource-efficiency of the African agro-food value chains by reducing loss and waste by improved post-harvesting and storage practices, and by creating value from side streams via bio-based packaging solutions for replacement of plastic.
InnoFoodAfrica supports establishment of a pan-African food R&D&I community via cooperation and creation of an open Innovation Platform to share innovations, maximize communication and facilitate technology transfer.
Expected Impact
New plant-based and healthy diets that on the short term are to become mainstream in 10 African cities
Significant reduction of malnutrition of small children
Smallholder farmers, especially women, empowered to act as active food chain operators in rural areas
New market opportunities for novel African food products
Solutions to convert food loss to packaging materials
Project website
InnoFoodAfrica has its own website where you can keep updated on the development of the project.
Go to innofoodafrica.eu
Project consortium