EcoSorb
Environmentally friendly and efficient liquid absorber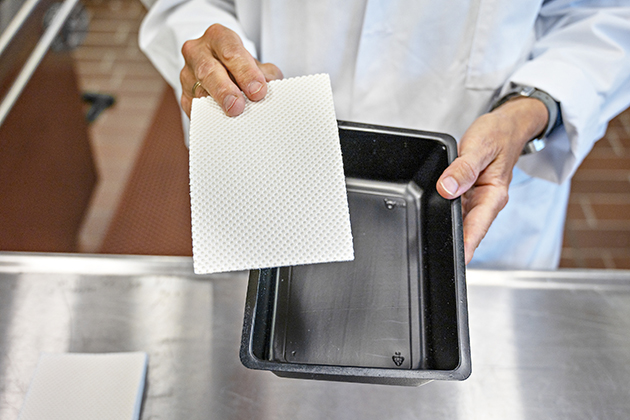 In the EcoSorb project, a novel and more environmentally friendly liquid absorber pad for fresh food products is developed, which will result in increased use of renewable raw materials and reduced use of plastic materials from fossil fuels.
Funded by
The Research Council of Norway
Cooperation
Bewi AS, Mc Airlaids´s Vliesstoffe GmbH, Nortura SA, SalMar ASA, RISE PFI
Most liquid absorber pads in today's market contain superabsorbent polymer (SAP) in either powder or fiber form. These have excellent absorber capacity, but are made of fossil raw material.
The overall goal of EcoSorb was to develop, validate and commercialize a new absorbent pad for packaging of fresh foods, based on cellulose from Norwegian forest raw material and safe in contact with food. The project's ambition was to contribute to increased demand of wood products and value creation in Norway.