Same quality in chicken fillets after 19 days with recyclable packaging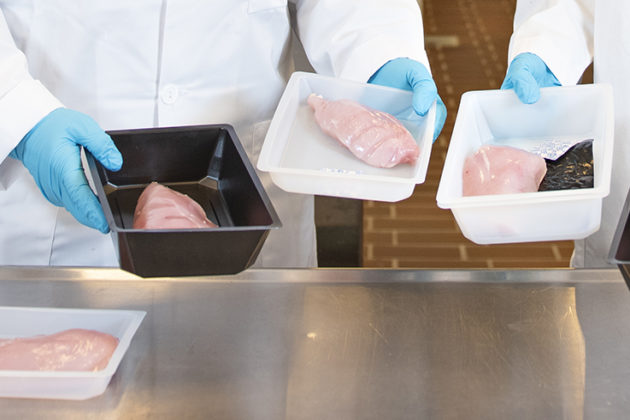 The main function of food packaging is to protect and preserve food. The challenge for researchers is to develop materials that are both recyclable and offer optimal protection.
The goal for Nofima packaging scientists is to develop new environmentally-friendly and recyclable packaging solutions.
"We have studied packaging solutions for chicken breast fillet, and the results using recyclable plastic are promising," says senior scientist Marit Kvalvåg Pettersen.
The difference between complex and mono materials
Complex materials are comprised of several types of plastic and are difficult to recycle. They are often used in food packaging as they provide a relatively simple way of delivering a protective barrier, i.e. minimizing the amount of oxygen transmission through the packaging.
Mono-materials consist of only a single type of plastic, and are far easier to recycle, but often have poorer barrier properties. This may have an adverse impact on shelf life, particularly for perishable foods such as fresh chicken fillet, which is often packaged in a modified atmosphere with a carbon dioxide/nitrogen gas mixture.
"When we choose a material with a relatively poor oxygen barrier, we also wanted to test whether further 'assistance' was required, such as adding an oxygen absorber. However, the absorber turned out not to prolong the shelf life", says Marit.
Same quality after 19 days of storage
The bacterial growth in chicken breast fillets in the various packaging solutions was measured during 24 days of storage. Both solutions were packaged in a modified atmosphere. In the first 19 days, there were no significant differences in smell, bacterial growth or fluid loss.
This research has been carried out in the FuturePack project and the strategic programme FoodMicroPack.
Contact person