Stockfish shelf life exceeds two years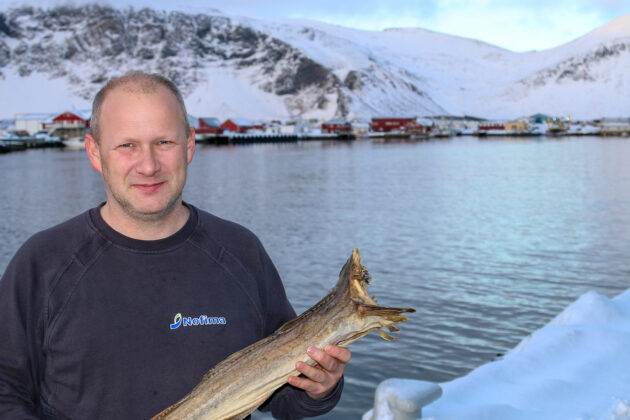 Nofima research shows that the shelf life for stockfish exceeds the two year date to which producers adhere. Now they eye market potential in "extra mature" stockfish.
Stockfish is popular in several countries and has been a Norwegian export commodity for over a thousand years. In 2018, Norway exported 5200 tonnes of stockfish for about €80 million, mainly to Italy and Nigeria.
Like others who produce food, the stockfish industry is required to label their products with a shelf life date. This is in relation to quality and health. Today, stockfish producers set a shelf life of two years, but the actual shelf life has never been documented.
"Best before" date can be extended
Therefore, in 2017, Nofima started a preliminary project aimed at analysing criteria for the shelf life of stockfish. This was carried out so that the stockfish can be labelled based on actual research. The project was funded by the Norwegian Seafood Research Fund (FHF).
"Our research shows that stockfish keeps longer than two years, as long as it is stored in dry and cool conditions", says Sjurdur Joensen, senior scientist at Nofima.
According to Joensen, it is still not possible to determine the exact shelf life as it depends on the storage method and climatic conditions.
"But most producers can extend the "best before" date longer than they do today", he says.
Tested 0 to 4 year old stockfish
The research itself was conducted at Nofima in Tromsø and at the stockfish manufacturer Brødrene Berg on Værøy.
In Lofoten, researchers took samples from stockfish that had been hanging over four different seasons – from 2015 to 2018 – and stored in traditional stockfish storage or climate storage. In short, climate storage is slightly colder and provides slightly higher humidity. During storage, the researchers documented the weight, quality and colour of the stockfish.
Afterwards, the various age groups of stockfish were presented to a sensory expert panel which included chefs and people from the industry. The tastings were anonymized and code labelled.
"The experts judged the samples to be quite similar regarding smell and taste, and noted some differences in colour. However, none of the samples were judged to be better or worse than is expected of a stockfish product", said Joensen.
– A special product
It was also noted that the stockfish that was stored over the longest period of time had more flavour and a slightly stronger smell. In addition, it had yellowed more than the other age groups.
According to the expert panel, this isn't necessarily a disadvantage. On the contrary. They see market potential in matured stockfish.
"Extra matured stockfish is a special product. It can be compared to ham or cheese, which is often categorized according to maturity and storage processes. Prolonged storage and various fermentation processes give the products more character. The same applies to stockfish", says Olaf Johan Pedersen of AS Glea on Røst.
Rolf Andreassen from Brødrene Berg on Værøy agrees with his stockfish competitor from the neighbouring island.
"The future of the seafood industry relies on as much processing as possible taking place here in Norway. For that to happen we need new, special products. Therefore, for producers like us, this is an important project", he said.
Positive chefs
The chefs on the panel would also like to use more mature stockfish.
"The stockfish changes the older it gets. They provide more and deeper flavour, but also a stronger smell. These are new characteristics that many will appreciate", says Eivind Austad, head chef at the restaurant MS Bjørnvåg in Tromsø.
"I think having an increased focus on stockfish is a good thing. For people in the industry like us, it's exciting to be part of a project where you really get to know the nuances of the food", says Espen Ramnestedt from the restaurant Smak.
Contact person