Record survival of juvenile cod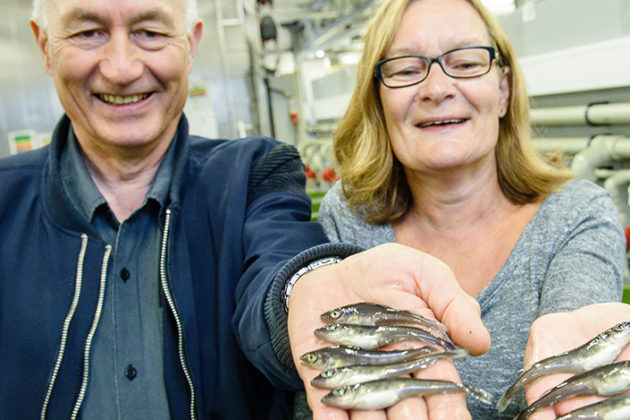 Never has the survival of juvenile cod been as high at the food research institute Nofima. Systematic improvements in all aspects of management have made a difference.
Nofima is conducting the national cod breeding programme, which has now been followed through three generations, in Norway. The time has been well-used also in optimising the production of cod.
Everything came together in this year's production. As soon as the cod had passed through the most critical phases 80 days after hatching, the personnel at the facility counted the fish. They discovered that they had produced far more than planned.
"We had complete survival in some tanks, which far exceeds anything we have seen before," says Atle Mortensen, head of the cod breeding programme, which is now in possession of surplus juveniles, should anyone want to buy any.
Better feed, water and egg quality
Even though the average survival for all 200 tanks was 33%, this is a clear improvement from 1%, which was the value when the production for the cod breeding programme started in 2003.
The colleagues at the station have since then worked to improve survival on several fronts, including feed, feeding routines, water quality, quality sorting of eggs and many other factors. The quality of the broodstock has also been important.
"It's like playing on a one-armed bandit. When all the factors are lined up at the same time, you hit the jackpot," says Mortensen.
Mortensen believes that aquaculture personnel will notice the high survival in that the juvenile cod will withstand more handling and have fewer deformities than previously. In addition, they are of an even size, which means that not many of the large fish eat the small ones. Cannibalism as a result of an uneven size distribution has been a known problem. Losses in the sea are now around 15-20% for cod from the breeding programme, and this is also lower than previously. Work to maximise survival in the cod breeding programme will continue.
Faster growth
The breeding of cod through three generations has, not least, led to the cod in aquaculture growing approximately 30% more rapidly than wild cod. This has led Mortensen to believe that the fish itself is ready to go into farmed production, if anyone is willing to take the step.
"This is not the same fish that we had when commercial cod aquaculture was nearly totally destroyed, eight years ago."
Many people in Norway invested in cod aquaculture in the years up to 2008. Economic and biological obstacles meant that the complete industry failed at that time.
Restart?
And we may be seeing a tentative restart of cod aquaculture now. Kenneth Brandal in Statt torsk AS at the western coast of Norway purchases fish from the cod breeding programme, and he likes challenges:
"Indeed – we would like to establish cod aquaculture again. We know how close we were to succeeding last time, and we know what we could have done differently and better. We have learnt from what happened then. Now we have sufficient knowledge to ensure that cod aquaculture can stand on its own two feet," says Brandal.
Statt torsk wants to start with a couple of hundred thousand fish, focus on good management, place the fish out at the best locations, and initially not expand production.
"If we can sell this cod in two years from now, this will be something to be proud of," concludes Brandal.
Contact person