Progress in breeding provides basis for profitable cod farming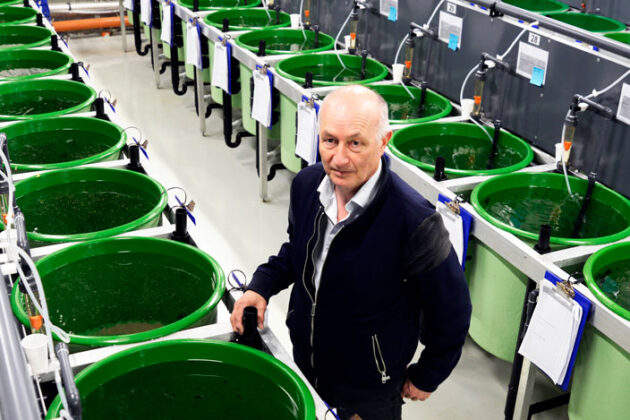 Progress in breeding work can provide a basis for profitable cod farming according to a new report just submitted by Nofima to the Ministry of Trade, Industry and Fisheries (NFD).
The report is based on the knowledge and experience basis for cod farming and was commissioned by the NFD. Based on the progress in breeding, scientists believe it could be the basis for profitable cod farming. The researchers recommend that the NFD develop a strategy for testing the profitability of cod farming based on a few main elements.
Risk relief
One of the elements of the strategy, which the Ministry should develop, is to contribute to the creation of a common arena for several fish farmers. The recommendation calls for the establishment of a consortium of interested fish farmers who are willing to test the commercial farming of cod on an industrial scale. This association of fish farmers must be provided with risk relief for financing the buildup of biomass for setting out stock fish for three consecutive years.
"Well-known and proven means for addressing such issues is that the state offers risk relief", says senior scientist Edgar Henriksen, one of the researchers behind the report.
In the report, it is evident that the previous lack of profitability in cod farming means that access to foreign capital from both banks and investors is likely to prevent any ventures going forward.
Nofima also writes that it is a prerequisite that the consortium includes actors with the skills and capacity to do thorough marketing work, and that strategies for the sale of processed and unprocessed farmed cod are both tested.
Own breeding station
Nofima has been researching cod farming for more than 15 years. In 2004, a production plant at Kraknes just outside Tromsø was bought and converted into a breeding station. This is now a centre for marine aquaculture, and major scientific advances have been made here in recent years. The breeding material is very good and will be further improved. This breeding material will be placed at the disposal of the industry. However, Nofima does not have the capacity to produce a sufficient volume of fry or carry out the growth phase up to the stock fish stage, so other solutions must also be sought.
"The progress made in breeding can provide a basis for the production of farmed cod within a cost level that makes profitable production probable. This requires acceptable risk for escape and disease. The fifth generation of our stock fish will be available in 2019, and will likely have greater potential for profitable production than the previous generation", says senior scientist Atle Mortensen, who heads the research work at the breeding station.
The bottleneck is the financing of biomass buildup on an industrial scale so that the future potential for cod farming can be documented.
Thorough documentation
A prerequisite for government risk relief should be thorough documentation of growth, costs in all phases of production and results of market work. And that the documentation is made publicly available.
"Work should also be followed up with research-based analyses of relevant biological, economic and market issues", the report states.
If it should turn out that the prerequisites are present for profitable growth in cod farming, fish farmers will also have to deal with sharper competition for space in the coastal zone. This issue will not become relevant until it appears that cod farming has commercial growth potential and leads to interest for new areas.
Oslo Stock Exchange
Cod farming had its heyday in Norway at the start of the 2000s. Two companies engaged in cod farming were listed on the Oslo Børs. Production of farmed cod increased from 2000-2010, but a lack of biological knowhow led to poor production results. In addition, the financial crisis combined with plentiful access to wild cod that reduced the price fish farmers could charge, precipitated a rash of bankruptcies.
However, Nofima's cod breeding programme continued and the fourth generation is showing such great progress in breeding that the conditions for cod farming are considered better than ever. The potential for continued progress in breeding is still present.
Higher price
New market strategies, such as niche marketing, can have the potential to trigger a higher price. Neither biological production nor market-related preconditions for a further profitable commitment can be clarified without testing the new breeding material on an industrial scale.
The volume of farmed cod sold in the market today is not very high. Even if fish farmers embark on a major commercial investment in cod farming today, it will take years before they can offer the market major volume. Experience shows that it is very difficult to say anything about the development of prices for cod over a longer time perspective.
The three companies that have set out cod fry after 2015, Statt Torsk, Namdal Torsk and Codfarm AS, have not set out a sufficient amount of fry to harvest experience on an industrial scale.
Read the report
Contact person