Just as nutritional as home-made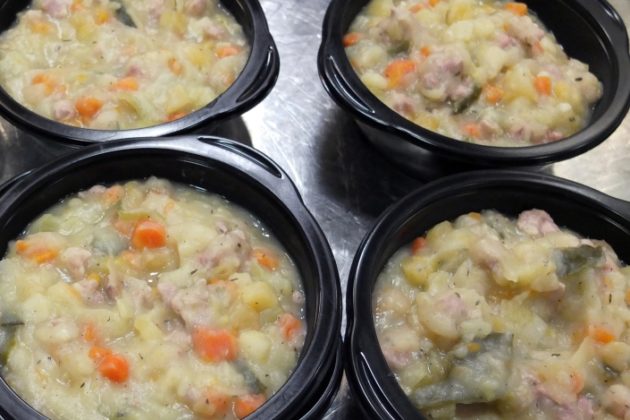 Great news for all busy parents: Commercially produced meals can be just as nutritional as the dinner you make at home.
In other words, there is nothing wrong with replacing one or more meals during the week with commercially produced ready-meals. Nofima researchers have analysed the ready meal "Lys Lapskaus (Meat stew) from Fjordland and compared the findings with the same stew made from scratch in the kitchen at home.
In 17 of 18 analysis parameters the two meals scored exactly the same, allowing the researchers to conclude that the use of heat treatment using Sous vide and Shaka autoclaving does not result in any substantial nutritional differences between ready-made stew in a tray or stew that is made from scratch.
Gentle preparation
"The current technology used in the production of this type of ready meal is gentle on the nutrients found in the raw ingredients used. There might even be a risk of overcooking the vegetables at home or that you choose not to use the nutritious boiling water in your cooking, thereby losing key nutrients," says Senior Researcher Jan Thomas Rosnes, who carried out the research together with Senior Researcher Dagbjørn Skipnes and Adviser Ida Synnøve Grini.
When the product is packaged prior to heat treatment, the vitamin loss in the final product will be less. A lot of research has been invested with regard to taste and quality using the "sous vide" technology. In addition to the relatively mild heat treatment that the raw ingredients are subjected to, all nutrients are retained within the boiling bag. Over time, sous vide has become increasingly popular in commercial kitchens, hospitals and nursing homes. From a purely culinary perspective, the method is renowned and used by gourmet chefs around the globe in their restaurants. This allows them to increase the level of nutrients and retain the taste better than can be done using traditional methods.
Watch film
In Nofima's Shaka autoclave, the Norwegian food industry can test this technology.
A number of products get significantly higher quality using Shaka technology.
Reduces vitamin B and vitamin C levels
Water-soluble vitamins in particular, such as vitamin B and C may be lost when raw ingredients are heated, and vitamin C is least resistant to heat. A third of vitamin C is lost when vegetables are boiled in water for five minutes. Fat-soluble vitamins, including vitamin A, D, E and K, are not affected by heat. This means that vegetables such as carrots and products such as vitamin-enriched milk can be heat-treated without losing substantial nutritional value.
Some of the most promising results were achieved using Shaka autoclaving, in which the heating is much quicker. Nofima is the only research institute in this country that has such an autoclave and the appearance and colouring of the food is also retained better during this process. An ordinary industrial autoclave does not have the same properties.
Cold storage is fine
Previously, there has been a lack of analytical documentation as to how commercially produced ready-meals retain nutrients. The main purpose of Nofima's research has been to document the importance of heat treatment and storage for an example product in a tray package from Fjordland. Lapskaus (stew) was chosen as it contains so many different ingredients.
The research that has now been carried out was part-financed by Fjordland AS and Fjordkjøkken AS, who were responsible for 60 percent of the funding, while VRI Rogaland (Rogaland County Council) contributed the rest of the funding.
Nofima has also investigated whether the nutritional levels in the packs are affected by cold storage for up to five weeks but has found that there is negligible decline in the nutritional value of the products if they are stored cold.
Nevertheless, it is important that food is prepared in accordance with the instructions on the pack so as to not impair the nutritional value when heating up the food.
Contact persons