Doctorate on food perception can help fight obesity and over-eating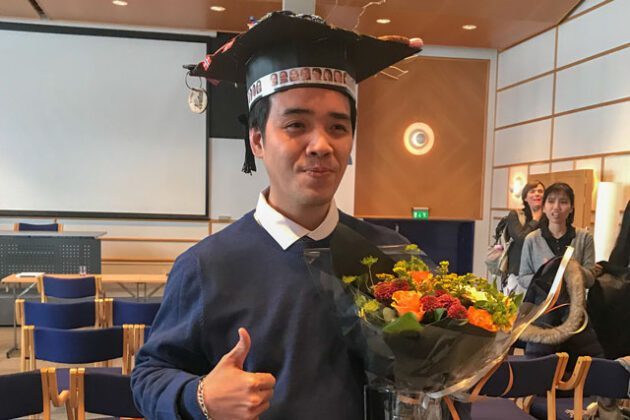 Can changing the texture of well-liked foods make people eat less?
Earlier this week, Quoc Cuong Nguyen from Vietnam defended his doctorate on "Better understanding of the relation of the dynamic sensory perception of solid and semi solid foods with consumers' preferences and their perception of satiety". Nguyen has spent the last three years as a research fellow at the food research institute Nofima in Ås, Norway, and as part of the research project FoodSMaCK.
His thesis investigates how novel data modelling methods can better explain the links between sensory perception, consumer expectation and satiety. Sensory perception refers to how we taste different characteristics of food (e.g. sweet, bitter, chewy), while satiety is more commonly known as the feeling of 'fullness'.
"Sensory perception is a dynamic process. When we eat something, we taste and feel different characteristics at different times while eating," he explains. "Take a piece of bread for example. When you start to chew, it may feel compact and dry. Then it becomes a bit stickier and maybe even juicy. That is the essence of sensory perception."
Obesity and over-eating
Nguyen believes understanding when and why we feel satiated from a food product from a sensory point of view could potentially be an important step towards fighting obesity and over-eating.
Earlier research has shown that foods with longer oral exposure tend to be more satiating. In other words, the more you need to chew the food, the less you will eat before feeling full.
"At the same time, our research showed that the more you enjoy a food, the more you will eat," he says. "Satiety is a complex process with physiological and psychological components, but sensory attributes can give us a clue as to when to stop eating," Nguyen says.
Here, texture is a key factor. Compact texture is the main attribute which causes prolonged oral exposure, due to the need for intensive chewing. This prompted Nguyen and his supervisors, Paula Varela, Tormod Næs (both Nofima) and Trygve Almøy (NMBU), to ask the question: Can we manage satiety by changing the food's texture?
Surprising results
To answer this, the scientists tested solid (barley bread) and semi-solid (yoghurt) foods with different textures on a trained sensory panel from Nofima and consumer test groups. The foods contained the exact same ingredients, and thus the same number of calories, but were prepared differently in order to give different texture. The different barley bread were described from hard/compact to soft/fluffy.
In this experiment, Nofima's trained sensory panel provided expert descriptions of the samples that were correlated to consumers' perception. Consumers also tasted the foods and answered questions about their attitudes, eating habits, preferences and feelings of fullness.
Sensory tasting was performed by a novel method called Temporary Check All That Apply (TCATA), which according to Nguyen proved to be the most effective way to describe and discriminate the products.
The results were surprising. The consumers could be divided into two groups that responded differently, Nguyen says.
"On the one hand, you had those that were driven by liking and ate more of what they liked the most. On the other hand, some ate more of what they liked less. These consumers were driven by eating-rate due to a softer texture."
Potential for the industry
Nguyen's supervisor, Paula Varela, wholeheartedly agrees that there is potential for the food industry to design products that are just as liked, less calorie intensive, and that give you the feeling of fullness more quickly.
"This would certainly help those struggling with obesity or over-eating, and we would love to cooperate with companies interested in creating such new and different food categories," she says before adding: "And we have the sensory methods that can make it happen."
Varela looks proudly over at her student from Vietnam who has just received his diploma. Their story started by a simple email.
Will return to Vietnam
"I remember reading some of Paula's publications on sensory perception and realised that I was very into the topic. So I sent her an email," Nguyen says. "Luckily, she replied and after some back-and-forth she offered to be my supervisor. I thought of it as a great opportunity. I also thought it could be nice to live in Norway," he laughs.
The young food scientist says that he has never doubted the decision.
"I love the environment here. Not just for studying, but for discovering. Nofima is more than a work community to me, it's family. My colleagues are very kind and I'm grateful for how much they have taught me," Nguyen says.
Next on the 31-year-old's agenda is finding a relevant postdoc position in Norway. At some point, he admits, he would like to return to Vietnam.
"I want to gain some more experience in the field before going back to my old university," Nguyen says. "My goal is to help improve sensory and consumer science in Vietnam. It's a very new field there, but with a lot of potential."
Contact person