Can cleaner fish become dinner?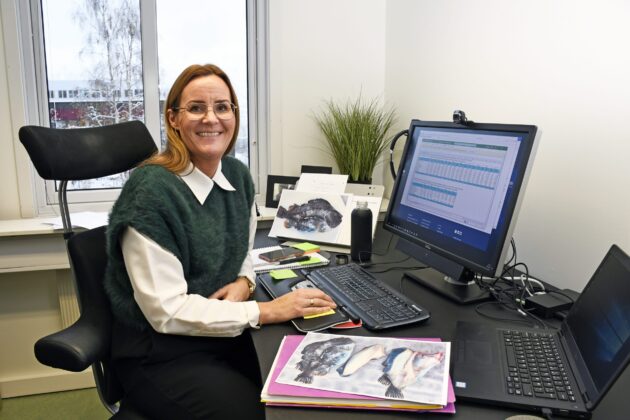 Would you like lumpfish for dinner? Nofima is trying to reveal how millions of cleaner fish used in the Norwegian salmon farming industry can be used for human consumption.
Cleaner fish, such as lumpfish, ballan wrasse and other species of wrasse, are currently being used by fish farms because they eat salmon lice. Millions of cleaner fish are put into salmon sea cages and do an important job for the health of the farmed salmon. The increased demand for cleaner fish have resulted in a large increase in lumpfish production, which now have become the third largest farmed species in Norway in terms of value.
"Sweets for the children"
"Lumpfish are put into the salmon cages when they weigh around 25 grams. Salmon lice are rather like "snacks" for lumpfish. The lumpfish are given their own food while they are in the salmon cages, but in addition they like to snack on salmon lice while they are small," says Gøril Voldnes.
She is a researcher at Nofima and the Project Manager of a major project called "From waste to food – sustainable exploitation of lumpfish", which aims to discover if cleaner fish can be used for human consumption.
Cleaner fish do not currently have any use when they stop eating lice, and at best they end up as animal feed after slaughtered.
"A lot of cleaner fish also die in the salmon cages. This is neither ethically nor sustainably justifiable and it is a challenge that we need to solve," explains the researcher.
Important to make improvements
Each cleaner fish costs around NOK 20, and fish farmers need thousands of them in each cage. In 2019 over 39 million farmed lumpfish were sold in order to combat lice in the salmon production. The Norwegian Food Safety Authority has documents which prove that more than 40% of cleaner fish die on average. These are the industry's own estimates, but they say that this figure is not definite because a lot of cleaner fish disappear without having been recorded, and it is very rare for surviving cleaner fish to be counted at the end of production. Consequently the actual percentage of cleaner fish that die in fish farms is probably higher.
It also costs to dispose of the cleaner fish afterwards, so there are a number of reasons why the industry is keen to take better care of these cleaner fish. The best thing would be if they could become a new resource once their work in the production of salmon has been concluded.
"Every lumpfish only eats salmon lice for a limited period of its life cycle, and its desire for lice seems to diminish when its weight increases to around 200-300 grams. However, the non-active cleaner fish remain in the cages until they salmon is slaughtered. Because it is a challenge to remove them, they accompany the salmon to the slaughterhouse. Most of the lumpfish undergo ensilage, which means that it becomes animal feed", explains Dr. Voldnes.
"Nofima will be looking at the whole lumpfish value chain. Our research includes everything from sorting to processing, the regulations, profitability, residual raw materials and the market," explains dr. Voldnes. Nofima is also participating in a research project headed up by Akvaplan Niva on the same subject.
Must be enticed out of the cages
Akvaplan Niva is looking into ways for gently removing cleaner fish from the salmon cages once they have finished eating the lice, and then transporting them onwards to be farmed or slaughtered.
"Akvaplan Niva are conducting trails (experiments) on using both sound and light in order to attract the lumpfish. Lumpfish like to hide in the cages, and they will stick like glue to various types of materials. Getting hold of them and removing them from the cages gently is not easy," maintains Dr. Voldnes. Nofima is also conducting research on finding better ways of anaesthetising lumpfish prior to slaughter.
The main question is: can lumpfish weighing around 300 grams be used for food? The most common food product made from wild lumpfish is smoked fillets.
"Russia, China and Denmark, etc. traditionally eat wild lumpfish and Iceland is already a major exporter. However, these wild fish weigh around two or three kilos. We have challenged both restaurants and others to find out how small lumpfish used in fish farms could be used," says dr. Voldnes.
Lumpfish have thick skin with a lot of cartilage and a layer of jelly. The actual fillets are lean with a good fatty acid profile and are a source of B12 and D vitamins, etc. For example, a lumpfish fillet weighing 109 grams can provide 10 μg of vitamin D – which is the recommended daily allowance for women and men between the ages of 2 and 60.
Markets in Asia?
Nofima's scientists have been served lumpfish in many different ways, ranging from fish cakes to sushi, but the chefs report that it involves much work and effort to clean and make use of such small fish.
"They taste good," says Dr. Voldnes, but she thinks that there is little likelihood that these tiny fish weighing 300 grams will become a success on the Scandinavian food market.
"We are a generation of fillet consumers and we are very choosy. In China and other countries in Asia, they are much better at exploiting all types of seafood. In China lumpfish is referred to as "Sea Cucumber Fish" because it has a similar texture.
Nofima is initially investigating the markets in Vietnam and South Korea. It will then determine production and transport methods which would ensure that the quality is maintained throughout the value chain?
"And then the price of the end products must make this profitable," says Dr. Voldnes.
Cleaner fish projects
Nofima's cleaner fish project: "From waste to food – sustainable exploitation of lumpfish", is funded by the Research Council of Norway, has a framework of NOK 8.9 million and is due to continue until the end of 2023.
Akvaplan Niva's project relates to gently removing the fish from the sea cages. It is funded by the FHF (Norwegian Food Research Fund) and will be completed in about one year from now.
Apart from Project Manager Gøril Voldnes, who is researching the market, the following people at Nofima are involved: Tatjana Ageeva (processing), Ingrid Kvalvik (regulations), Marianne Svorken (profitability analyses) and Kjersti Lian (residual raw materials). Akvaplan Niva's Atle Foss is also involved, and Thong Tien Nguyen from Nha Trang University is working on market and economic analysis for the project in Vietnam.
Partners from the industry are Lerøy Aurora, Ryfylke rensefisk and Nordøy Sea.
Contact person