Large variations between vegetarian burgers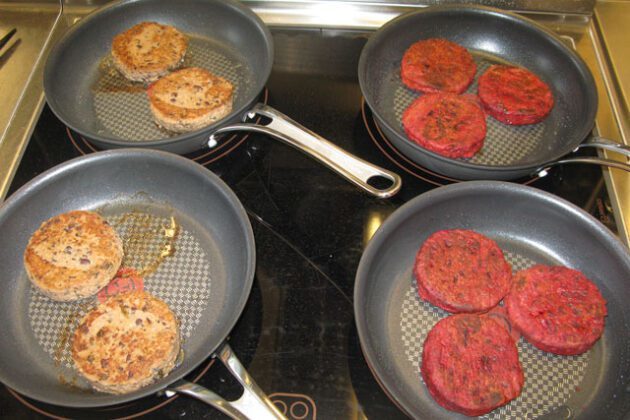 The range of vegetarian burgers on offer has grown enormously, and there are big differences between the different burgers. This applies to taste, salt and nutritional content. Nofima's sensory assessors have tested 22 different varieties. Here's their assessment.
"The taste judges tasted a total of 24 burgers. The last two were with beef in order to compare similarities and differences in terms of taste and texture. The assessors came up with 29 different sensory attributes. That is, attributes linked to odour, flavour, taste, and texture", says sensory analyst Kristine Svartebekk Myhrer at Nofima.
Beets are the most prominent flavour
Do you like beets? Beets are the raw material that makes the greatest impact on taste and is most different from the other burgers. The beetroot burgers are also juicy and quite sweet.
Other raw materials that give characteristic sensory attributes, is beef. The meat flavour is naturally far more evident in the beef burgers, but several vegetarian burgers also score quite high on meat flavour.
"Slightly simplified, we could say that it is the vegetarian burgers with a high protein content that taste most like beef burgers. These contain soy and/or wheat, often in combination with peas. Burgers with peas actually taste more of meat than peas," says Kristine Svartebekk Myhrer.
Burgers containing mushrooms naturally have more mushroom flavour than burgers without, and bean burgers have more bean flavours than other burgers, but these flavours are less prominent than beetroot flavours for beetroot burgers and meat flavours for the beef burgers.
The fifth basic taste, Umami – which in Japanese means "good taste/tasty" – is often described as the taste of broth, meat, sun-dried tomatoes, and Parmesan. The burgers with the most umami flavour are the beef burgers, but all the burgers in the test taste of umami. There is a great variation in the texture of the burgers, both for hardness, juiciness, graininess, toughness, and fattiness.
Check the salt content!
Salt is a flavour enhancer, but a high salt content poses a health risk. Many of the vegetarian burgers in this test contain a lot of salt. 5 grams of salt corresponds to a heaped teaspoon and in general one can say that the salt content is considered high when there is more than 1.25 grams per 100 grams of product.
– Eight of the 22 vegetarian burgers have a salt content exceeding 1.25 grams per 100 grams. The salt content of the burgers ranges from 0.3 to 1.8 grams per 100 grams. Norwegians have an average intake of about 10 grams of salt per day. That's twice as much salt as recommended by health authorities and the WHO," says Ida Synnøve Grini, senior adviser at Nofima.
Large variations in protein and calorie content
The protein content of a meal should be 20 grams. Among vegetarian burgers, the protein content ranges from 4.9 to 21 grams per 100 grams, and most burgers weigh just over 100 grams. Both beef burgers have 18 grams of protein per 100 grams.
There are also large variations in terms of the number of calories in the vegetarian burgers, from 98 to 255 kcal per 100 grams. Roughly speaking, the legume burgers have the most calories – and the best proteins. Vegetable burgers have the fewest calories. The beef burgers both contain 234 kcal per 100 grams
"It is not so difficult to put together vegetarian foods so that the need for energy and nutrients is met, but note that several of the burgers in the study have too little protein in order to be a natural substitute for a meat burger in a dinner. A burger menu consists of more than the burger itself and the other parts can naturally help to increase protein and calorie content", concludes Ida Synnøve Grini.
Facts
These studies are funded by Nofima's basic grant, as part of the technical grading of the sensory judging panel.
The following burgers were tested:
Burger Vegansk, Hälsans Kök
Sensational burger, Hälsans Kök
Vegetable burgers, Iceand Mat
Liv made, Hoff
Naturli, Orkla
Juicyburger, Coop
Black Bean, Vegme
Black Bean, Slåtto
Veggi burger, Findus
Veggi burger beetroot, Folkets
Oumph!, Food for Progress
Burgers Vegetarian, Vivera
Quorn burger, Marlow Foods
Quorn Ultimate Burger, Marlow
Beyond Burger, UNIL
Nacho Spicy Bønneburger, Iceland
No Bull Burger, Iceland
Vegetarian Dag Burger Beans and Peas, Coop
Vegetarian Day Burger Beets and Honey, Coop
Vegetarian Day Burger Mushrooms, Coop
Vegetarburger, Jæder
Butcher Burger, Grillstad
Juicy Brisket Burger, Nortura
Current sources of protein are:
Beans and lentils
Peas
Soy
Wheat
Mycoproteins
Fungus
Vegetables
Contact persons