Norway is the senior player in salmon farming in the north; but could we also learn from the smaller and younger industry players?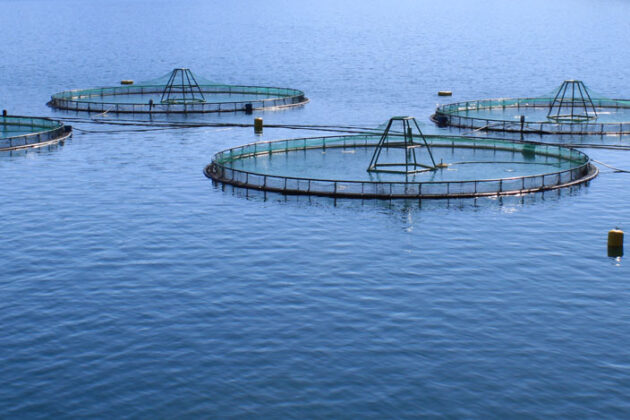 Salmon farming: A relatively new industry in the northern region which provides food, jobs and prosperity, but also carries an environmental impact, with protests and irritation following in its wake. How should this industry be managed in a way that ensures sustainable future development? Researchers in four countries are now looking into this question.
Canada, the Faroe Islands, Iceland, and Norway: four countries with general expectations of further growth in the lucrative aquaculture industry, with salmon farming as the most prominent. How does different governance policies impact the industry in these countries? And what could Norway learn from the other countries?
"Norway, the world's leading farmed salmon producer, is the senior player of the industry. We have a long history of governance in this industry, and others usually look to us to learn from our policy and management practices. However, perhaps we could also learn by looking to others", says Nofima researcher Ann-Magnhild Solås.
Solås is in charge of the FourSalmon research project.
The aquaculture industry represents great opportunities for community development, job creation and profit, but also faces challenges related to environmental and social impacts. There is still a lot we don't know about the long-term effects this industry will have on society and the environment.
New knowledge urgently needed
Since salmon farming is a rapidly growing industry which is representative of the current intensification of industrial activities in the northern and Arctic regions, we urgently need to develop the necessary knowledge as to what constitutes good governance practices in this field.
"This emphasizes the need for a knowledge-based governance approach which is capable of assessing and safeguarding the many different aspects of salmon farming. Our aim is to strengthen such knowledge development by comparing the different governance practices in four different northern countries", says Ann-Magnhild Solås.
Key topics include environmental sustainability and how we can ensure an equitable distribution of burdens and benefits associated with the industry.
In October 2019, researchers from the four countries convened in Iceland to start mapping the different salmon farming governance practices employed in each country, with a particular focus on how considerations for environmental and social impacts have been incorporated into the regulations.
"We are focusing on two different stages: License awarding: What are the criteria to get licensed to carry out salmon farming? And operations: What are the criteria for continued sea-based production? Authorities, legislation, responsibilities, processes and procedures as well as the role of local communities play a central part. In Iceland we met with people from the various part of Reykjavik's administrative sector: representatives from the food safety authority, environmental authority, planning authority and marine research sector, who supply the government with models and recommendations, and the fisheries organization, which includes the fish-farming sector", says Ingrid Kvalvik, who is in charge of the project comparing the various governance regimes.
Grouping and comparison providing new insights
A similar mapping of governance practices will also be carried out in the Faroe Islands, Canada and Norway.
"The aim of the project is to study how principles for governance in the various countries are organised and put in to practice, providing comparisons which will provide the authorities, aquaculture industries and local communities with new insights", says Ann-Magnhild Solås.
The four countries involved in the project operate under different conditions with regards to salmon farming, and the researchers say they are not surprised to find different approaches to salmon farming governance as well.
"Where Norway has a relatively long history of both salmon production and production management, Iceland is in many ways a newcomer in this regard – at least on an industrial scale. Canada is faced with somewhat different challenges on the east and west coasts, and their governance practices therefore differ between the two regions. In the Faroe Islands, most of the suitable sea areas have already been exploited, and so further growth cannot realistically be facilitated simply by handing out new licences for salmon farming", says Ingrid Kvalvik.
They conclude that the four countries have different approaches as to how and how often industry expansion is permitted, whether fish farming licenses are time-limited or not, and the various requirements that apply during the process.
"We also see that the countries have different approaches as to how they gather knowledge and different methods for risk assessment. This is not to say that the methods from the other countries will be applicable to Norway, but we are still interested in seeing what we can learn from other practices and perspectives", says Ann-Magnhild Solås.
Sharing knowledge
The plan is to make the knowledge which the researchers gather through this project available for the four countries' governments at different governance levels – that is, at a central, regional and local level.
The researchers also intend to share their findings with other research communities through meetings and conferences.
"This is important to increase the overall knowledge about salmon farming governance practices", says Ann-Magnhild Solås.
Contact person