Believes the development of sub-chilled salmon will accelerate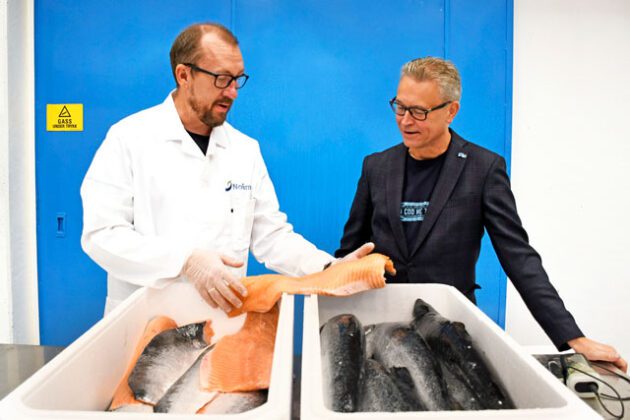 NOK 10 million saved annually. And 250 fewer trailer loads along the roads. This is what factory manager Stine Torheim and Grieg Seafood in Alta are saving by switching to the method of sub-chilling salmon for export.
Odd Emil Ingebrigtsen, Norway's Minister of Fisheries and Seafood, is delighted.
Feed and freight currently account for the majority of the greenhouse gas accounts for the aquaculture industry. During his visit to Nofima in Tromsø, technology that can reduce greenhouse gas emissions from shipping was demonstrated for the minister.
Norwegian salmon is exported throughout the world. The salmon is packed in crates and shipped by either container or aircraft, depending on the distance. Each box contains about 20 kilos of whole salmon and five kilos of ice. The ice ensures that the salmon stays fresh, but takes up a lot of space.
What if you could completely dispense with the ice by cooling the salmon a little more, so that it is still fresh, and not frozen?
Sub-chilling improves sustainability
This technology, which is called sub-chilling, means the salmon are cooled to about minus 1.8 degrees, and then put in a box completely without ice.
"The fish is preserved just as well, if not better," says Bjørn Tore Rotabakk of the food research institute Nofima. He has been researching sub-chilling for more than 20 years.
The researcher presented the technology to the Minister for Fisheries and Seafood Odd Emil Ingebrigtsen during the minister's visit to Tromsø.
"This is an example of how research and industry work together to increase sustainability. Transport is one piece in the big sustainability puzzle," says Odd Emil Ingebrigtsen, adding:
"When customers demand more sustainability, the development of sub-chilling will accelerate."
Benefits for the environment and the economy
The production of one kilogram of salmon creates CO2 emissions of about 12 kilogrammes. Compared to other protein-rich foods, salmon is relatively environmentally friendly. But the industry wants even more sustainability.
As the first slaughterhouse in Norway, Grieg Seafood in Alta has therefore adopted sub-chilling of the salmon when it is transported to the European market.
"On an annual basis, we can save 250 trailer loads. This benefits the environment and can save NOK 10 million in costs. It's a win-win ,situation" says factory manager Stine Torheim.
But despite 20 years of research, and calculations showing economic and environmental savings, sub-chilling is still not the industry standard.
– Conservative market
Arild Aakre is sales manager at Cermaq. He says that you encounter a fairly conservative attitude when you want to sell sub-chilled salmon in the international market.
"Salmon packed in boxes of ice is the usual way to transport the fish. When the box is opened and there is still ice in it, fish buyers and others think that the transport process has gone well.
He believes that sub-chilled salmon requires a change in attitude.
"But we find that the commodity chains in Europe in particular want more sustainable salmon. They are helping to change attitudes," says Aakre.
75% of Norwegian salmon exports go to Europe. With European grocery chains looking to promote more sustainable salmon, consumer awareness will also increase.
Thus, the demand for environmental transport methods can lead to sub-chilling becoming the way Norwegian salmon suppliers pack their fish.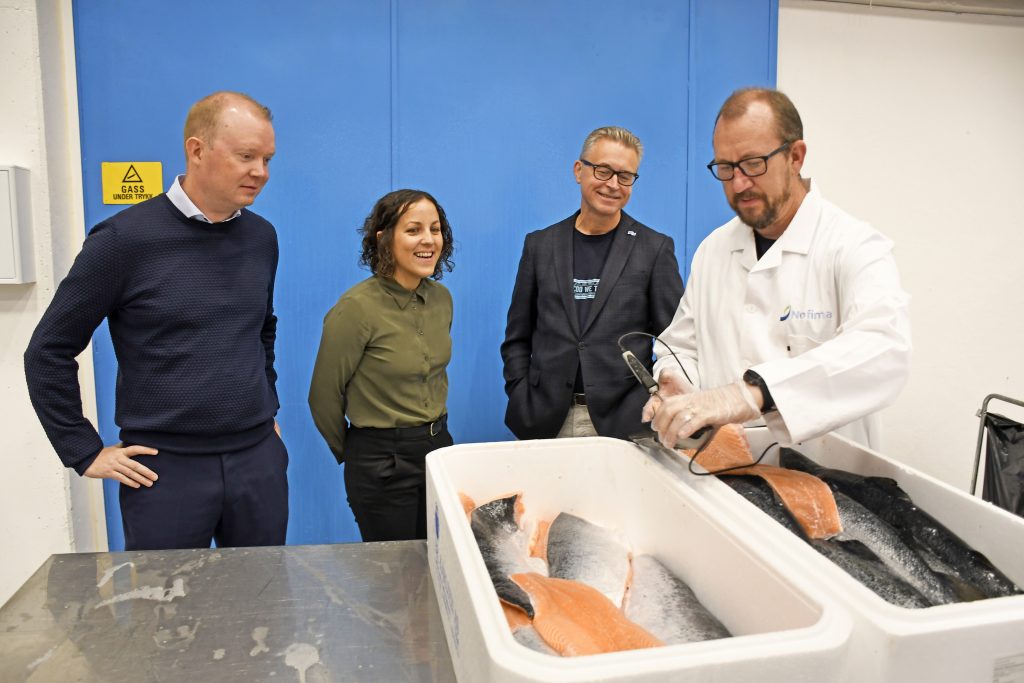 Better quality sub-chilled
Nofima researcher Bjørn Tore Rotabakk is confident that the salmon quality will improve compared to traditional icing.
"At minus 1.8 degrees, the fish is still flexible and does not behave like a frozen fish. This is because the salmon contains seawater and fat that gives it a lower freezing point than zero degrees.
"The salmon can also be filleted before it is cooled down. This will give the industry more salmon in each box and will further reduce its environmental footprint.
In addition to the environmental footprint, the researcher believes that there are several positive aspects of exporting fillets instead of whole salmon.
"If the market wants fillets, we in Norway can keep the residual raw materials such as the head etc. ourselves. The way it works today, a lot of valuable raw material is shipped out of the country," he says.
Contact person