ArctiCod
How will climate change affect farmed cod?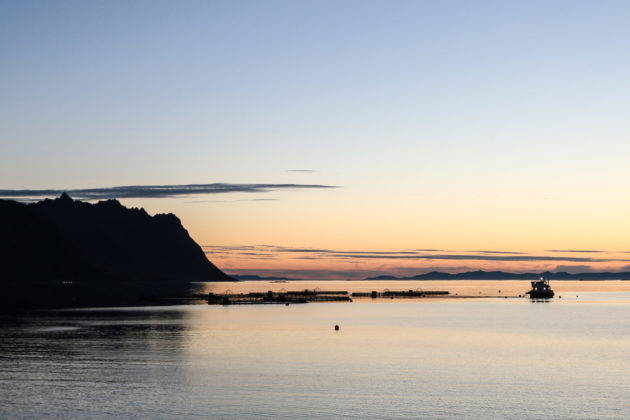 In this project we will investigate how climate change affect farmed cod.
Funded by
Troms og Finnmark fylkeskommune
Cooperation
Institute of Marine Research, the University of Stirling.
Background
One of the biggest threats to sustained food production is climate change. Climate change is expected to affect all food production systems worldwide, including aquaculture. The impact of climate change will however vary considerably within the different sectors, as will the ability of these sectors to adapt and respond. There is an urgent need to consider how climate change will impact local farming conditions and production in the Arctic, in order to respond and act properly to climate change.
First and foremost, we need to understand how climate change will affect the farmed species, including biological thresholds and limitations. Optimal temperatures for mature Atlantic cod (Gadus morhua) is between 6 and 11°C, with temperatures above 15°C being sub-optimal, reducing growth and increasing stress. Increased mortality is observed when temperatures reach 20°C. The biological significance of these thermal thresholds needs to be further explored to understand limitations, opportunities, and possible strategies of adaptation when planning to increase cod farming under climate change. Especially we need to consider how temperature, other climate related stressors (i.e., reduced oxygen and jellyfish) and production-related stressors (i.e., handling and transportation) may have compounding effects.

Goal
ArctiCod aims at understanding the general impact of different climate scenarios upon cod-farming in the Arctic, and the specific interactions between climate related stressors on biological responses in cod.

Subgoals
Use the temperature projections from the newest climate scenarios (SSP1, 2 and 5) from IPCC to get future climate projections for specific farms
Identify the challenges fronting the industry by evaluating the future farm conditions to biological thresholds and technological limitations in cod production
Understand some of the complexities in climate change and aquaculture through cod trials targeting compounding effects, including direct consequences of climate change like increased temperature, heat waves and reduce oxygen, indirect consequences like mimicking a jelly fish invasion, and production related challenges like stress related to transportation and moving of the fish
Reveal possible adaptation responses to the studied climate and production driven stressors
Implement results from the project by starting discussions on suitable communication platforms for stakeholder engagement in aquaculture, cod farming and climate change in the Arctic

This is what we do
In ArctiCod we will use several approaches to understand how climate change may affect cod farming in the Arctic, including literature search, climate model projections, evaluation of production data, fish trials, and cell model systems. To ensure a realistic approach, the design of the fish trials will be anchored in climate scenarios from the International Panel on Climate Change (IPCC, Shared Socioeconomic Pathways, ssp's).
The most recent climate scenarios from IPCC are be used to study how climate change will affect cod farming in the Arctic. Since climate change will affect production sites differently, depending on regional and local conditions, specific sites used for the production of cod requires special attention to target adaptation to future challenges.
Aquaculture environmental studies are focused mainly on single-factor effects, and the compound influence of other stressors, like production regimes and secondary climate effects, are often not included. To reduce this knowledge gap, we will perform in vitro and in vivo fish trials where physiological responses will be profiled to define biological thresholds.
To target industry relevant challenges, the results will be discussed with stakeholder's experience. Co-operation and communication across stakeholders are keys to an effective response to future challenges, and it is necessary to communicate in arenas that include researchers, policymakers, industry and other stakeholders. Theoretical knowledge built on future climate predictions and tank trials performed in research facilities needs to be verified using real-life assessments and relevant research needs to be communicated to the stakeholders in order to be used and useful.
The project will provide fundamental knowledge that will be translated into knowledge-driven adaptation strategies crucial for the further development of cod farming in the arctic. ArctiCod will be tightly linked to Nofima's strategic projects Insight – "Insight into fish health under climate change", where the aim is to evaluate the effects of climate change-related stressors on Atlantic salmon.