Norwegian Low Trophic Aquaculture Workshop
In this workshop we aim to initiate a durable Low Trophic Aquaculture (LTA) network for Norway by bringing together industries, researchers, and policy makers to facilitate exchange on various LTA-related topics.
Date
25. Jan 2023
26. Jan 2023
Venue
Nofima, Muninbakken 9-13 Tromsø University Campus, Tromsø, Norway
Price
No charge for attending the workshop. Lunches and a workshop dinner on the evening of January 25th are included.
This workshop is arranged in collaboration between Nofima, Norce, Bellona, and UiT – The Arctic University of Norway.
Topics
How to establish LTA as a concept?
What are the bottlenecks, and what is the potential for LTA in Norway?
Good Practice recommendations and policy recommendations
LTA teaching and training materials
Showcasing of projects, results, initiatives, and success stories
The LTA hub for news, events, reports, and other content
More efficient LTA production will have a positive impact on society in terms of income and employment generation, and for provision of jobs in rural areas. LTA will also provide new, safe, and sustainable food products that can form part of a nutritious diet for the consumers, which in turn will have a positive effect on health and wellbeing.
Numerous projects and initiatives on LTA have emerged these last years.
Two of the biggest are AquaVitae, coordinated by Nofima, which has the overall goal of "Unlocking the potential of sustainable low-trophic aquaculture in the Atlantic Ocean'' and ASTRAL, coordinated by NORCE, which has as its goal to "defining, supporting, and promoting IMTA sustainable aquaculture production across the Atlantic area".
Speakers
The final program will be announced later. Here are some of the speakers at the workshop.
Harald Sveier, Ocean Forest
Øivind Strand, Institute of marine research, Norway
Marit Gjerstad, Norwegian Seaweed Association
Magnus Petersen, Pronofa
Lone Jevne, Innakva
Marianne Frantzen, Akvaplan niva
Lars Olav Sparboe, Akvaplan niva
Renate Larsen, Oceanfood AS
Dror Angel, Haifa University
Shirra Freeman, Haifa University
Petter Olsen, Nofima
Philip James, Nofima
Celine Boechat-Kristensen, Nofima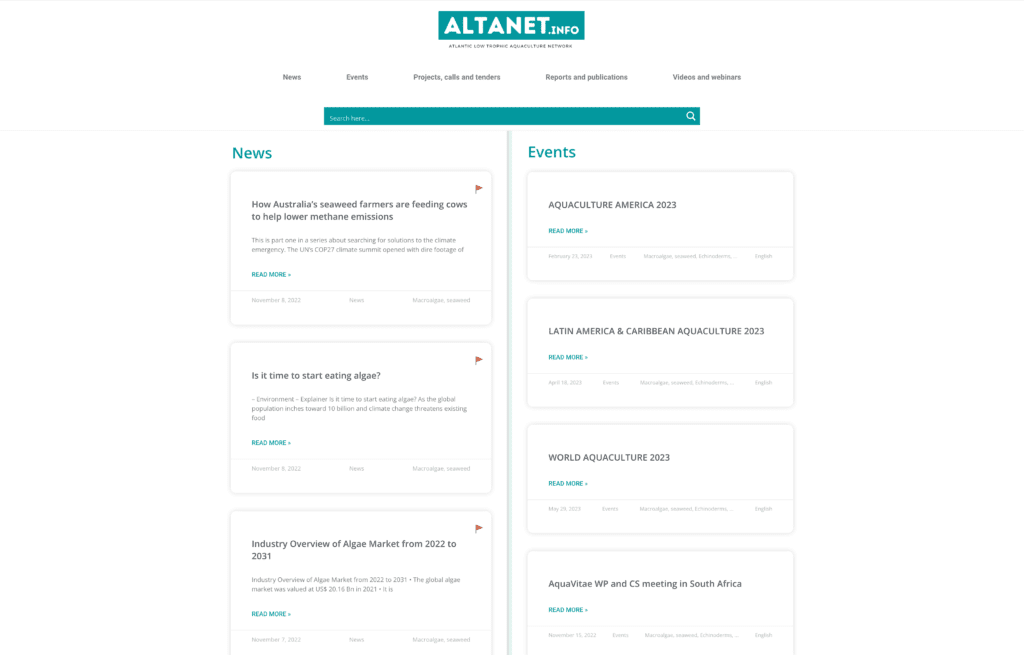 ALTANet.info
The most important deliverable from the NoltaNet project is the web-based information hub "AltaNet" (Atlantic Low Trophic Aquaculture Network, https://altanet.info/) with links to information about projects, announcements, webinars, publications, news, websites and images.
Contact person